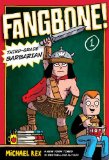 Fangbone!
Third-Grade Barbarian
Review posted February 28, 2013.
G. P. Putnam's Sons, 2012. 120 pages.
Fangbone! Third-Grade Barbarian is straight-up silly fun. I do not expect to see it sitting on the shelves for long, or, well, ever.
Fangbone the Barbarian has been sent by his clan to our world to protect the Big Toe of Drool.
Here Fangbone explains the back story to his new third grade class:
Five hundred winters ago, the greatest evil that ever lived ruled over Skullbania. Venomous Drool was his name. He built an army that swept through the lands and almost wiped out the clans.
Many battles were fought, and many great warriors died to keep his evil from spreading.
Finally, Drool was defeated, and cut into many small pieces. . .
The pieces were separated and taken to different lands so that Venomous Drool could never rule again.
But since my birth, a new army of Drool worshipers has been moving through Skullbania, collecting the pieces one by one, and rebuilding Drool.
The only piece that they do not have is his big toe! My clan was put in charge of protecting the big toe because it is the most evil, cursed, wretched part of his body.
I was given the toe and sent into your world. Venomous Drool and his army will never find me here. He will never get his big toe back.
For I am FANGBONE! Protector of the Big Toe of Drool!
Of course, the situation of Fangbone in a normal (well, klutzy) third grade class has all sorts of opportunities for hilarity. I love the way the teacher tells the kids, "Class? Class! Please relax. Fangbone comes from a faraway place. People are different all over the world. We must respect his culture."
The story of the book? Fangbone helps his class defeat the bullies in the school's beanball tournament. And his new class helps Fangbone defeat the monstrous creatures the Drool worshipers send against him.
Best of all? This is a graphic novel with pictures that match the silly fun of the words. There are already three volumes in the series and I already anticipate having kids come to the Information Desk again and again asking if we have the next volume (because someone snatches each volume up just as soon as it gets turned in). Everything about this book says kid appeal. Michael Rex is the author of such stellar parodies as Good Night, Goon and Furious George. He put all that clever and insightful humor into this graphic novel series. A win all the way around.