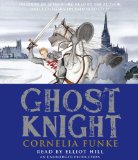 Ghost Knight
Review posted November 10, 2012.
Originally published in German in 2011.
English translation by Oliver Latsch, Random House, 2012.
Listening Library, 2012. 5 hours on 4 compact discs.
Starred Review
I'm a sucker for a good British accent, and Elliot Hill is simply marvellous at reading this audiobook. I'm not sure I would have enjoyed the book as much if I had read it myself, since I'm not a big fan of ghost stories. But Elliot Hill started off with the pitch-perfect voice of a British schoolboy angry with his potential stepfather "The Beard," and sent off to boarding school in Salisbury. (And be sure you hear "Salisbury" in your head with a British accent!)
There's wonderful atmosphere. The school is located in an old Bishop's Palace, and the Cathedral is haunted by some of the knights buried there. But right away, Jon Whitcroft finds out he's in trouble. A horrible ghost with a rope around his neck comes with four servants and they are after Jon, calling him "Hartgill," his mother's maiden name. It turns out that dead lord was executed for murdering a Hartgill centuries before.
Only Jon can see the ghosts, and he's in trouble until one of his schoolmates -- the only one who believes him -- suggests that he ask a dead knight for help. Though it's not as simple as Jon hopes.
Like I said, I'm not a huge fan of ghost stories. But many children are, and this one would make a fabulous family listen-along. You've got a likable 11-year-old kid caught in the middle of truly scary adventures with historical overtones. And did I mention the wonderful British accents?