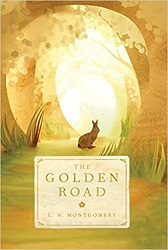 The Golden Road
Review posted August 13, 2019.
Bantam Books, 1989. First published in 1913. 213 pages.
Starred Review
Review written July 17, 2019, from my own copy
The Golden Road is a continuation of The Story Girl, so they should be read in order. It's more antics and adventures of several children living in a village on Prince Edward Island more than one hundred years ago. Put that way, it's maybe surprising how enjoyable the stories still are today.
The tone is nostalgic. Beverley King is an old man telling about a beautiful season of his childhood, when they were on "the Golden Road." Like the first book, it's an episodic tale, though this one doesn't have quite as many stories told by the Story Girl. But we get more encounters with the local "witch," Peg Bowen, and Felicity finally makes a mistake in cooking, and we find out about the mystery of the Awkward Man.
Summarized, there's not a lot that stands out, but this is one of those books with characters who are delightful to spend time with. And the setting of Prince Edward Island pervades the book, making me all the more eager to see it for myself later this year.
This is a book that had me reading with a smile on my face.