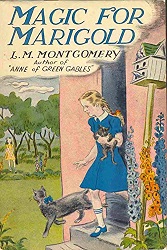 Magic for Marigold
Review posted August 7, 2020.
McClelland-Bantam, Toronto, 1988. Originally published in 1929. 274 pages.
Review written August 3, 2020, from my own copy, purchased for me by a friend at Green Gables in Cavendish, Prince Edward Island.
I'm still rereading all my L. M. Montgomery books, in honor of the trip I got to take to Prince Edward Island last Fall. I've slowed down my reading since the trip, but am still plugging away. After this one, I only have six of her novels left, and then the posthumous short story collections.
This particular copy of Magic for Marigold was brought to me from Prince Edward Island by a friend who had visited in 1988 – when the book had gone out of print in the United States but was coming out in paperback in Canada. The funny thing is that she brought me back two books – this one and also The Blue Castle -- and they turned out to be my favorite (The Blue Castle) and least favorite (Magic for Marigold). Also interesting is that these two books were written the same year of L. M. Montgomery's life.
Rereading Magic for Marigold many years later, I enjoyed it a lot more than I did the first time, because I knew what to expect. There's no romance, and it amounts to essentially a series of short stories about a little girl as she grows from birth to age 12. L. M. Montgomery is a brilliant writer of short stories, and taken that way, this book is as delightful as her others.
Many themes that show up in the author's other books are present here. Marigold's father died before she was born, and she lives with her mother, grandmother, and great-grandmother in the ancestral home, part of an enormous family of relations. The foibles of family are at the heart of many of the situations Marigold faces.
They live in a small farming community on Prince Edward Island. I always love the names L. M. Montgomery invents for farming communities on Prince Edward Island. This one is Harmony.
Marigold is an imaginative child with an imaginary friend she can meet with if she follows a certain ritual. Her trouble making flesh-and-blood friends is one of the ongoing themes of the book, though her imagination is seen as a strength, not a weakness.
One thing, though, I'm afraid I hate this time through – the ending. Marigold has finally made a good local friend, a boy. But then another new boy comes into town and the first boy stops playing with Marigold or doing things with her. Well, after a tiff between them, he comes back to Marigold – but then makes up with the other friend. Marigold learns that sometimes you need to share your friends, and that's fine. She figures out she shouldn't pretend to like things she doesn't like – such as hunting snakes and digging for worms. That's fine, too.
What I don't like is what her aunt tells her. There's some good stuff about how we have to share our friends with others. But I didn't like when she inserted gender into it with these words: "We – women – must always share." And with that background, Marigold's last line bothered me: "'And I'll always be here for him to come back to,' she thought."
As a friend, okay. I'm still a friend to my friends who go through a spell of not having time for me. I do like the principle that you can have more than one friend at a time. That even best friends can have more than one friend at a time. But that feeling of waiting in one place? No, Marigold, go off and have adventures, too! When that boy comes back, it's okay if you're busy having fun with other friends yourself.
But that's a small thing. As with every single L. M. Montgomery book, reading this gave me a feeling of joy and a reminder to notice the beauty around me. And now I can think back to my time on Prince Edward Island and imagine the characters in that stunning setting.