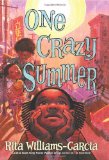 One Crazy Summer
Reviewed May 14, 2010.
Amistad (HarperCollins), 2010. 218 pages.
Starred Review
2011 Newbery Honor Book
Sonderbooks Stand-out 2010
: #4 Children's Fiction
Delphine is looking after her sisters as they make their way on an airplane ride across the country to see their mother who abandoned them when Delphine was four years old.
All the way to the airport, Pa had tried to act like he was dropping off three sacks of wash at the Laundromat. I'd seen through Pa. He's no Vonetta, putting on performances. He has only one or two faces, nothing hidden, nothing exaggerated. Even though it had been his idea that we fly out to Oakland to see Cecile, Pa'd never once said how exciting our trip would be. He just said that seeing Cecile was something whose time had come. That it had to be done. Just because he decided it was time for us to see her didn't mean he wanted us to go.
My sisters and I had stayed up practically all night California dreaming about what seemed like the other side of the world. We saw ourselves riding wild waves on surfboards, picking oranges and apples off fruit trees, filling our autograph books with signatures from movie stars we'd see in soda shops. Even better, we saw ourselves going to Disneyland.
Rita Williams-Garcia had me hooked right there, because I remembered when I was a bit younger than eleven-year-old Delphine when we moved to California in 1970 (two years later than this story is set), and the number one thing I was excited about was going to Disneyland.
I eventually had my dream come true, but not Delphine. Her mother lives in Oakland, far north of Disneyland, and she keeps saying that she didn't send for them.
Delphine quickly figures out some things.
I didn't want to say Big Ma was right. Cecile was no kind of mother. Cecile didn't want us. Cecile was crazy. I didn't have to.
Delphine still needs to look after her sisters, because Cecile is not doing it. As the third of thirteen siblings, my heart went out to her. It wrenches my heart to hear of kids being forced to take on the responsibilities of a parent when they should just be a kid.
But this book goes farther than that, goes much deeper than three kids with a neglectful mother. Cecile is a poet, and the Black Panthers are using her printing press. She doesn't want to be disturbed by Delphine, Vonetta and Fern during the day, so she sends them to People's Center to get breakfast and then stay for the program. The People's Center is run by the Black Panthers.
So begins Delphine's crazy summer. She's in California, finding out what her crazy mother is really like, and looking after her little sisters. I like the way Rita Williams-Garcia shows each girl's personality by their actions and words. Delphine is steady and reliable. Vonetta always wants to be the center of attention. And little Fern always holds onto her beloved Miss Patty Cake and observes the world. But what will happen to them if they stay involved with the Black Panthers and the rally they're planning?
This novel is richly woven, warm and deep. We get a rich perspective on California in the late sixties, from the perspective of three colored girls. Delphine's worried about the militancy of the Black Panthers. But on the other hand, she and her sisters count the number of colored people on television and don't come up with much. They see people staring at them, expecting trouble. They are fascinated by Hirohito, a boy at the center whose father was arrested when the police burst into his family's home. They begin to adopt the slogans they are taught, "Power to the People."
I hope this book gets some Newbery attention this year. It's got all the hallmarks of a winner: A powerful story; round, believable characters we come to love; insight into a period of history from a perspective we probably haven't heard before; expert and beautiful use of language; consistent and distinct ways of talking that help us understand each character as an individual; and (my favorite) a story that leaves you warmed and smiling, with deepened understanding and with things to think about. This is a book that will stick with you.