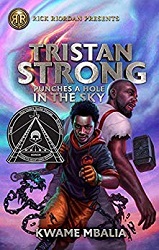 Big Kudos to Rick Riordan for recruiting authors from many different ethnicities to write books similar to his own – mythology comes to life, only now the mythology featured is from a different cultural background, which the author is writing from.
Tristan Strong Punches a Hole in the Sky tells about an African American kid who punches an ancient bottle tree in the South and then falls into a world where the characters from the stories his Nana tells are real – and that world is in danger.
It turns out that Tristan has a gift from Anansi of storytelling, and that will be key to saving the mythical characters.
I do love that this book builds off of African American tales. The non-stop danger and adventure will appeal to Rick Riordan's fans.
I personally wasn't completely convinced by the world-building and was a little bewildered about how the whole life-or-death crisis got started and how it was to be resolved. I also wasn't fully present with Tristan's emotions – I felt like I was told about them more than shown what they would be. But a lot of kids won't care about details like that, and I will still gladly recommend it to kids who want a rip-roaring adventure in a world where fantasy turns out to be real and kids are needed to save the day.