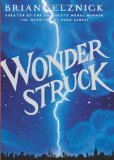 Wonderstruck
Review posted March 21, 2012.
Scholastic Press, New York, 2011. 637 pages.
Starred Review
2012 Battle of the Kids' Books
Contender
Brian Selznick did something amazing with The Invention of Hugo Cabret, telling half the story with pictures. The pictures were so excellent, he won the Caldecott Medal for his work.
Now, with Wonderstruck, Brian Selznick has created another work that will fill readers with wonder. The form is very similar to Hugo Cabret, but the book has a logic and beauty of its own. In both books, the writing didn't draw me in, didn't make me feel for the characters as much as I wanted to. However, Wonderstruck pulled me in anyway with the characters. Where, to me personally, Hugo Cabret felt like a clever puzzle, Wonderstruck is a brilliant puzzle wrapped up in a heart-warming story and fascinating historical details.
In Hugo Cabret, the detailed pictures evoked the silent films the story was about. In Wonderstruck, we've got two separate stories going on. The written narrative is set in 1977, beginning in Gunflint Lake, Minnesota, and the story told through the pictures is set in 1927, beginning in Hoboken, New Jersey. The story in 1927 is about a deaf girl, so silent pictures, like the silent movies she loves, are appropriate for her story. The two stories converge in New York City at the end of the book.
The author's Acknowledgements at the end reveal the vast amount of research he did and his incredible attention to historical detail. This book is an amazing work of art in the way he wove together words and pictures, but also two separate stories into one. He even makes the pacing the same as he tells the stories. When one child is running away, so does the other. When one child is discovering things, so does the other.
I do love having Brian Selznick's books there to offer to children. They look like a big, daunting book -- but with all the pictures, can be read quite quickly. So even reluctant readers can read an "Award Winner" and thoroughly enjoy it.