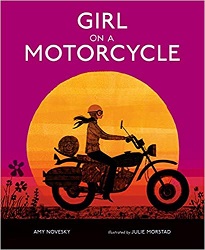 Girl on a Motorcycle
Review posted February 8, 2021.
Viking, 2020. 48 pages.
Review written October 6, 2020, from a library book
Starred Review
2020 Sonderbooks Stand-out
:
#5 Children's Nonfiction Picture Books
Girl on a Motorcycle is a beautifully illustrated picture book telling the true story of Anne-France Dautheville, a French girl who rode a motorcycle around the world in 1973.
Julie Morstad's illustrations have a retro feel, but they also give a feeling of adventure, wonder, and beauty. The girl on the motorcycle is small, but she's determined.
The book shows the many different places she traveled and the many different people she met along the way. It tells about times when she needed help from strangers and other times when she simply enjoyed the company of strangers.
And it captures the feeling of seeing amazing things and collecting amazing experiences.
The text part (before the Author's Note) closes with a quote from Anne-France:
The world is beautiful. The world is good.
When she closes her eyes, the girl can still hear the road.
Elsewhere is just a little bit farther.
This book leaves you ready to listen to the call of the road. I wonder if any children reading it will end up as world travelers.