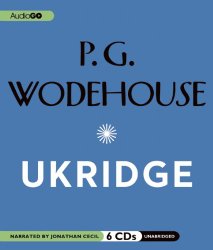 Ukridge

Review posted 01/25/2015.
BBC Audiobooks America, 2006. 6 CDs, 7 hours, 29 minutes. Originally written in 1960.
I'm running out of Jeeves and Wooster CDs to listen to, so I've turned to some of P. G. Wodehouse's other characters, and I'm not sorry.
Ukridge is a series of short stories narrated by a writer, Reggie Corcoran, about his old friend Stanley Featherstonehaugh Ukridge.
Jonathan Cecil, as usual, does a magnificent job of reading the books, though the character of Ukridge is one I start to get tired of. When I found myself almost calling someone "Old Horse," I thought I should give these CDs a rest for a bit!
But I've always said that laughing while driving is one of the very best ways to stay awake, so P. G. Wodehouse CDs are some of the best possible listening material. Ukridge is the sort of person who never pays for anything and always has a scheme going to make his fortune for all time. Something invariably goes wrong – and hilarity ensues.