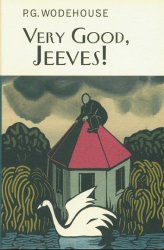 Very Good, Jeeves!
Jeeves and the Old School Chum
and Other Stories

Review posted May 2, 2015.
The Overlook Press. First published in 1930. 297 pages.
Recorded Books, 1985. 3 compact discs.
Starred Review
The reason I'm still reviewing P. G. Wodehouse books is simply to keep track of which books I've read. I can't possibly tell by reading the books! In fact, I listened to the audiobook first, Jeeves and the Old School Chum, which said it was "selected" stories from Very Good, Jeeves, but I can't tell you for sure which stories I heard on CD first.
You might think this is a criticism? It is not at all! Yes, the stories are similar, so hard to keep straight. But I enjoy them every single time. I may have a general sense that I know how Jeeves is going to solve a particular imbroglio -- but that only fills me with delighted anticipation.
This is a book of short stories, as opposed to one of the books where one big complicated entanglement fills the pages from start to finish. There are 11 chapters, 11 short situations where Bertie needs Jeeves' help to get out of a situation or to help out a friend.
These stories are also represented in the BBC video series "Jeeves and Wooster," which makes them all the more familiar.
As always, we've got Bertie's amusing use of language and general cluelessness, along with Jeeves' brilliant insight into the psychology of the individual. It is completely apparent that I will never get tired of hearing these stories.