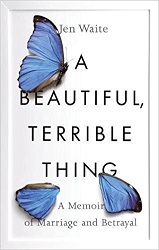 A Beautiful, Terrible Thing
A Memoir of Marriage and Betrayal
Review posted October 25, 2017.
Plume (Penguin Random House), 2017. 258 pages.
Starred Review
2017 Sonderbooks Standout
: #1 General Nonfiction
I thought I'd read just a chapter of this book on Friday night. But once I started, I couldn't look away until I'd finished.
Yes, it's the true story of an apparently wonderful husband who cheated, lied, and turned out to be a psychopath. (There is a disclaimer at the front that this is not an official diagnosis. This isn't an official diagnosis, either.) Many of my readers know that I, too, had a husband who cheated – and the long, awful time of suspicion and being lied to and desperately trying to fix things eventually ended with finding out it had all been much worse than I'd thought.
Jen Waite's story is different from mine. She had only five years she thought she'd had a good marriage (and came to find out, he'd been cheating very early on). But that feeling of devastation? The world-toppling discovery that leaves you not knowing what was ever real? The wondering, always wondering what he's up to right now and compulsion to check? All of that felt horribly familiar.
When I read that her husband was working long, long hours – through the night to the early hours of the morning – I just cringed. (That one took her a long time to figure out. And I know why – He's working so hard! You want to be supportive! He's sacrificing so much time for his job!)
Anyway, this is a story of a marriage – how they met and fell in love quickly – and betrayal. The discovery happened shortly after the birth of their first child. Jen Waite tells the story beautifully and suspensefully. She starts with the moment she read the email her husband had written that changed her world. It's just a paragraph, which ends like this:
What I am seeing must have a logical explanation. It must be a misunderstanding. As soon as I can talk to my husband, he will explain and everything will be OK. This is not an emergency yet. If I can just hear his voice, I will be able to breathe again. Balancing the baby in one arm, I reach for my cell phone with the other, unconsciously bouncing my knees to soothe my daughter's screams.
After that, she alternates between sections describing "Before" and "After." The "Before" sections deal with how they met and built a life together. The "After" sections involve finding out what, actually, happened, and how she very slowly figured out the extent of his betrayal.
Jen finishes up the book describing how she has resolved to become a licensed therapist, specializing in recovery from psychopathic relationships. Yes! So it ultimately becomes a story about wresting good out of a nightmarish situation.
For me, reading it gave me a sense of solidarity – a reminder that I wasn't the only one who ever got cheated on. (I know this intellectually, but that's different from feeling sympathy as the author describes going through it.) But it also gave me a lovely realization of how far I've come. Yes, I remember being so devastated – but I am not devastated now! I remember trying to get my life back on track and find my footing – and (Wow!) I have done so! Not only am I working full-time as a children's librarian and youth services manager – I even had my dream come true and am on the Newbery committee! And I would never have even become a librarian if my husband hadn't left me – I was enjoying working part-time far too much.
I liked her emphasis that life goes on and we can emerge better and stronger. Yes! This is true!
You may not have such a personal connection with this book, but either way, it's still a gripping and emotional true story. It will give you insight, compassion, and understanding for people caught in such an awful situation.
I checked the author's website, and she's got further encouragement for people who are putting their lives back together. May she continue to grow better and stronger because of what she's been through.