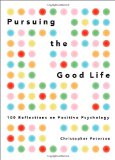 Pursuing the Good Life
100 Reflections on Positive Psychology
Review posted November 26, 2013.
Oxford University Press, 2013. 341 pages.
Starred Review
I'm rather fascinated by Positive Psychology. I've read books like How We Choose to Be Happy, You Can Be Happy No Matter What, and What Happy Women Know: How New Findings in Positive Psychology Can Change Women's Lives for the Better, and enjoyed all of them.
Christopher Peterson was one of the founders of the field of Positive Psychology. This book is a set of 100 short pieces taken from his Psychology Today blog called "The Good Life". I approached the book by reading one piece per day for the last few months. (I had to turn the book back in a few times, too!) The pieces were fascinating, or at least amusing, and often helpful.
Here's a paragraph from Dr. Peterson's first chapter:
My goals for the reflections that follow are several. First, I will discuss research findings about the psychological good life. Second, I will explore the most promising practical applications based on these findings. And third, I will use positive psychology as a vantage to make sense of the world in which we live. I hope you find what I say interesting.
Indeed, you might not expect to find a book written by an academic to be entertaining and practical at the same time, but this one is both of those things.