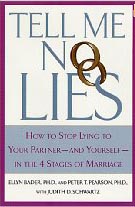 Tell Me No Lies
How to Stop Lying to Your Partner -- and Yourself -- in the 4 Stages of Marriage
Review posted March 14, 2009.
Skylight Press (St. Martin's Press), New York, 2000. 241 pages.
Starred Review.
2008 Sonderbooks Stand-out
: #3 Nonfiction, Personal Growth
I think of myself as a truthful person. So I was a little offended by the first paragraph of this book.
Everybody lies. Friends lie to friends. Children lie to their parents. Politicians lie to constituents. And, certainly, husbands and wives lie to each other.
However, they do point out that these lies definitely don't start out mean-spirited. For example, classic lies of the Honeymoon Stage are "I like everything about you." and "We like all the same things."
The authors show common lies in the four stages of marriage and how they can lead to the marriage getting off track. Their explanations ring true. I was able to realize that the belief that I always tell the whole truth was definitely a lie I was telling myself.
They define four stages of marriage as The Honeymoon, Emerging Differences, Freedom, and Together as Two. They explain the pitfalls of lies in each stage:
Certain types of lies arise at different points in a marriage in response to the specific challenges of each stage. Deception will stunt development in each stage, creating an emotional gridlock that leaves both partners stuck. We call these stalled points "Detours and Dead Ends." From the Honeymoon, you can veer into The Dark Side of the Honeymoon. When deceit obscures your Emerging Differences, you can end up in the Seething Stalemate. The failure to negotiate independence can thrust you into Freedom Unhinged. The only way to get on track is to confront the truth.
The authors don't place all the blame on the person doing the lying. They include a chapter on "The Lie Invitee" explaining why there are times when we really don't want to hear the truth.
This is a fascinating and helpful look at what makes an open and honest marriage. You can't really know one another if you don't tell the truth to each other. If you are beginning to feel distant and "so different" from each other, maybe it's time to take a look at what truths about yourself you are hiding from your partner or maybe from yourself as well.
This book is full of good advice for building a good marriage. It can also help you understand the dynamics of what went wrong if your marriage falls apart.
Intimate relationships are difficult, despite what cultural myths would have us believe, and every couple will encounter some tough situations. The grit to withstand those challenges -- and to keep your marriage growing and alive -- requires that you find the courage to voice the truth. And the resolve to listen to it.
Be sure to read further quotations from this book on Sonderquotes.