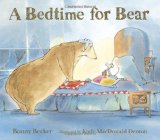 A Bedtime for Bear
Review posted January 27, 2011.
Candlewick Press, 2010. 48 pages.
Starred Review
Sonderbooks Stand-out 2010
: #3 Picture Books
I fell in love with Bear and Mouse in Bonny Becker and Kady MacDonald Denton's first book about them, A Visitor for Bear. The book worked beautifully for reading aloud to a group of school aged kids up to 3rd grade at a summer childcare center -- and equally well at preschool storytime. It was a whole lot of fun to read, with fun repetition that built suspense as well as a chance for the reader to indulge in drama. And all along, I've loved the expressive pictures that tell the story and subtext so brilliantly.
After they make friends in A Visitor for Bear, Mouse shows Bear how nice a birthday can be when you celebrate with a friend in A Birthday for Bear, which is in Easy Reader format. This third installment goes back to the format and almost the formula of the first -- resulting in fun repetition that builds suspense, as well as a chance for the reader to indulge in drama.
Now Bear and Mouse are taking their friendship to another level: Bear is having a sleepover. However, everything has to be just so for Bear's bedtime. Most of all, it had to be quiet -- very, very quiet.
I love the way Bear has learned about friendship, but is still the same persnickety Bear underneath. He tries so hard to be polite at the noise Mouse makes at the beginning! You can see clearly on his face how hard this is for him:
Bristle, bristle, bristle. Bear heard a noise. It was Mouse, brushing his teeth.
"Ahem!" Bear cleared his throat in a reminding sort of way.
"Most sorry, said Mouse.
You can already guess what will happen, though what gets Mouse going was a surprise to me. I just love Bear's big blow up, with the words printed huge across the page: "Will this torment never cease!" wailed Bear.
Honestly, it makes me want to run a Read-Aloud Bedtime Stories program just to get to read this book!
But that's not the end. There's a nice little twist when all is quiet and Mouse is asleep... but Bear hears something. Turns out it's nice to have a friend when you hear scary noises at night.
I hope I've conveyed how much I love this book, but to truly appreciate its charm, you really need to get a copy and read it yourself -- better yet, grab someone to read it aloud to, at bedtime. And like all great bedtime books, it ends with the characters fast asleep - and one of them is snoring.