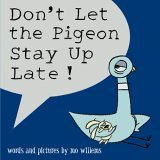 Don't Let the Pigeon Stay Up Late!
Reviewed July 14, 2007.
Hyperion Books for Children, New York, 2006. 36 pages.
Starred Review.
Sonderbooks Stand-out 2006
: #1 Picture Books
My husband used to say that a good book for a toddler is one that ends with someone asleep. In fact if we read such a book to our older son, we could watch him develop dark circles under his eyes and become much sleepier and easier to tuck into bed.
Don't Let the Pigeon Stay Up Late! is another delightful and fun book along the lines of Don't Let the Pigeon Drive the Bus! This one deals with an activity that toddlers would really like to do—stay up late.
I never have met a toddler who seriously wanted permission to drive a bus, but once my son threw a temper tantrum for an hour in the middle of the night because he wanted to "stay up all night and all day"!
This book gives kids a chance to tell the Pigeon that he can't stay up late, instead of being on the other end of it. They can easily see that the Pigeon is getting sleepy, and this time he's the one who screams, "I'M NOT TIRED!"
It's almost formulaic, with some pages having exactly the same look as those in Don't Let the Pigeon Drive the Bus! However, with toddlers, being formulaic makes a book all the more delightful as they know what to expect.
I was staying with a friend for a couple of months after I moved, and she has a 4-year-old son and a 2-year-old daughter. I loved trying out the Pigeon books on them. I was surprised when the 4-year-old was the one who most enjoyed telling the Pigeon, "No!" but the books were a big hit with both kids. Their favorite pages in both books were definitely the full-out temper tantrum pages. Michelle would often open the book to that page and ask me to say it. (Of course, if I kicked and screamed that made it a lot more fun!)
Every child should get a chance to tell this Pigeon what to do. I don't think they will necessarily understand that the Pigeon is doing the same things they do, but they will enjoy the chance to be the one with the authority.