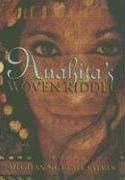 Anahita's Woven Riddle

Review Posted January 20, 2009.
Amulet Books (Harry N. Abrams), New York, 2006. 352 pages.
Set in 1880s Iran, Anahita's Woven Riddle tells the story of a girl of a nomadic tribe who loves the land, loves their annual migration, and loves to put the colors of native plants, along with her own dreams, into her weaving.
When the local khan seeks to marry Anahita, she is not happy. He has already buried three wives, and he does not seem to be a kind man. She wants to marry someone who loves riddles as she does, so she requests that her father offer a contest. She will weave a riddle into her wedding carpet, and she will marry the man who can solve her riddle.
This book gets off to a slow start, and I wasn't impressed at first with the writing, jumping into the perspectives of various people. However, by the end I was quite absorbed in learning Anahita's fate. I ended up liking that the author presented the viewpoints of more than one suitor whom Anahita could be happy with.
I did learn lots about the history of Iran and the nomadic peoples of Persia. The author conveyed Anahita's love for her land and her tribe. She learns from the dyemaster how to make dyes from plants she finds along the path of their migration, and scorns the new chemical dyes available in shops in the city.
This book has a meditative quality, including poetry by the Persian poet Rumi. The story does draw you in and leaves you feeling you've caught a glimpse of the heart of old Iran.