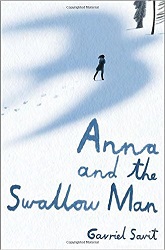 Anna and the Swallow Man
Review posted May 18, 2016.
Random House Children's Books, 2016. 232 pages.
Starred Review
2016 Sonderbooks Stand-out
: #2 Teen Fiction
Wow. I read this book on the first half of a flight to Portland, and sat stunned when I'd finished at just how rich and beautiful this novel is.
It's a World War II story, so some awful things happen. It's listed as a children's book, but here's a heads' up for parents that it's a book about war, and most of the bad things happen off stage, but there are some bad things that happen. Personally, I'd rather give the book to teens than children. (And by the end of the story, Anna is a young teen.)
There's not really a moral to the story, but it's beautiful. Memorable, luminescent, and beautiful.
How does Gavriel Savit do it? One of the things he does is taking a unique character and then drawing wise conclusions about life.
We meet Anna on November 6, 1939 -- the day her father, a university professor, was required to attend a meeting that ultimately ended in his being taken to a concentration camp. She is seven years old.
Anna's father was a professor of linguistics at the Jagiellonian University in Krakow, and living with him meant that every day of the week was in a different language. By the time Anna had reached the age of seven, her German, Russian, French, and English were all good, and she had a fair amount of Yiddish and Ukrainian and a little Armenian and Carpathian Romany as well.
Her father never spoke to her in Polish. The Polish, he said, would take care of itself.
One does not learn as many languages as Anna's father had without a fair bit of love for talking. Most of her memories of her father were of him speaking -- laughing and joking, arguing and sighing, with one of the many friends and conversation partners he cultivated around the city. In fact, for much of her life with him, Anna had thought that each of the languages her father spoke had been tailored, like a bespoke suit of clothes, to the individual person with whom he conversed. French was not French; it was Monsieur Bouchard. Yiddish was not Yiddish; it was Reb Shmulik. Every word and phrase of Armenian that Anna had ever heard reminded her of the face of the little old tatik who always greeted her and her father with small cups of strong, bitter coffee.
Every word of Armenian smelled like coffee.
When Anna's father doesn't return, she begins following the Swallow Man, but is instructed not to draw attention to herself. When I read this passage, I realized that this is one of those books that is wonderful because of the universal wisdom. It's got particular, unique characters, but universal wisdom:
Anna very much wanted to avoid attention, and it was not long before she discovered the trick of doing so. A well-fed little girl in a pretty red-and-white dress immediately raises alarm if her face is covered with concern and effort, if she strains to see what is far ahead of her, if she moves only in fits and starts -- and this was precisely what her present labor required her to do. At one intersection, though, she felt certain she had seen Monsieur Bouchard, her father's old French friend, in the street ahead, and suddenly, impulsively, abandoning all effort of following the tall stranger, she smiled and ran gleefully toward the familiar man.
In the end he was not Monsieur Bouchard, but the effect of this burst of glee was immediately apparent to her. When she passed through the street hesitantly and with concern, the grown-ups who saw her seemed to latch on to her distress, trying to carry it off with them despite themselves, and the strain of the effort would cause a kind of unwilling connection between the adult and the child until they were out of one another's sight. For the most part Anna felt certain that their intentions were good, but it seemed only a matter of time before someone stopped her, and then she did not know what might happen.
On the other hand, when she ran through the street with a smile of anticipation, passing adults still took notice, but they did not try to carry off her joy with them -- instead it engendered a kindred kind of joy inside of them, and well satisfied with this feeling, particularly in the eternally threatening environment of a military occupation, they continued on their way without giving her a moment's thought.
It was with joy, then, and not concern, that she followed the thin man past the guards at the outskirts of the city -- they didn't give her a second glance -- and by the time Anna was alone in the twilit hills, this effort of counterfeiting happiness had brought to bear a true sort of excitement within her.
You read that and realize that this is true. This would work.
So universality and particularity combine with lovely language -- and the result is this amazing book.
It's a war story, and doesn't really have an obvious moral, though there are certainly morals you can pull out of it. I'm not crazy about the ending, and some terrible things happen along the way, things that will wrench your heart.
But this book is truly beautiful. Everyone should read this book. When you've done so, please tell me what you think!