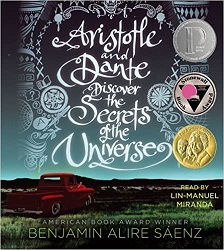 Aristotle and Dante Discover the Secrets of the Universe
Review posted June 22, 2022
Simon & Schuster Audio, 2013. 7 hours and 29 minutes.
Review written February 12, 2022, from a library eaudiobook
Starred Review
2013 Pura Belpré Author Award Winner
2013 Stonewall Book Award Winner
2013 Lambda Literary Award Winner
2013 Printz Honor Book
2022 Sonderbooks Stand-out
:
#1 General Teen Fiction
I got to hear Benjamin Alire Sáenz give his Printz Honor acceptance speech in 2013, and that speech made me very much want to read this book. I finally got around to it after a sequel came out in 2021 – and the same day I finished listening to this, I began listening to the sequel. I am so glad to finally read this marvelous book.
It's a friendship story about two Mexican American boys. They meet at the start of summer before their sophomore year of high school at different high schools in El Paso, Texas, and have a laugh over their similar names. Ari is the narrator of the book, a boy who spends a lot of time in his own head – which makes him a good narrator. Dante is an open-hearted boy full of philosophical questions and free with his emotions – the sort of boy who'd try to rescue a bird with a broken wing in the middle of the street.
But when Dante does that on a rainy day and a car comes around the bend, without thinking, Ari runs and pushes Dante out of the way – at the risk of his own life. There are some other crises in the book, and lots of thinking about life and what things mean. Ari has a brother twelve years older who is in prison, and his family never talks about that brother.
I knew from the Printz acceptance speech that this is also a book about coming out as gay and figuring out who you are. But that takes up most of the book, so I won't say a lot about that – except it is heart-wrenching and feels true. The book is set in the late 1980s, and they're up against harsh attitudes in the world around them, many of which are internalized.
Something I love about this book are the two sets of parents, both of whom are wonderfully drawn and love their sons with all their hearts. It's refreshing to read a book about teens with loving and supportive parents. Ari's dad is dealing with post-traumatic stress from his time in Viet Nam, but that makes him human and real, not irreparably scarred.
In fact, that's what's so wonderful about this book – all the characters feel true. Nobody's perfect, and they've got flaws consistent with their strengths. I found myself wanting to hug these two boys.
And it's narrated by Lin Manuel Miranda! He didn't do a tremendous job distinguishing between the voices of the different characters, though I find I'm picking up on subtle differences a little more by the time I've started the second book. But in spite of that tiny quibble, I could listen to Lin Manuel Miranda read anything. When it's a wonderful book he's reading, it simply added to my love. Of the book!