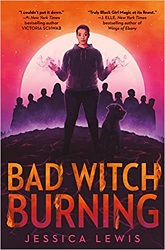 Bad Witch Burning
Review posted February 11, 2023.
Delacorte Press, 2021. 340 pages.
Review written January 17, 2022, from a library book.
Starred Review
2021 Cybils Finalist
,
Young Adult Speculative Fiction
2022 Sonderbooks Stand-out
:
#6 Teen Paranormal Fiction
This book is so, so creepy!
I'm not usually a fan of creepy books, and if I hadn't been reading it as a Cybils Finalist, I might have quit. I'm so glad I finished – this book is amazing.
The set-up is that sixteen-year-old Katrell has discovered she can help people communicate with their dead loved ones. All she has to do is write them a letter. The letter will catch on fire, and the loved one will appear. Okay, it gives Trell a headache, but she can make money that way. And she needs money, because her mother lost her job and her mother's boyfriend Gerald likes to eat, and it's up to Trell to pay the rent.
But then Gerald shoots Trell's beloved dog Conrad – and in her anguish, Trell writes Conrad a letter, asking him to come back – and he does! Will this same thing work on humans? There's a whole lot more money in resurrection than there was in simple communication with the dead.
No surprise, though – there are awful consequences to bringing people back to life.
This book is full of suspense and tension and horror – in the best possible way. Normally, when my time reading a book is full of mentally screaming to the main character, "Don't do that! Don't do that!" – normally, I would think it was either unrealistic or the character is just stupid. In this case, although maybe Katrell didn't exercise the best judgment, the author made me understand how strong her motivation was to continue. Never having had enough money makes money a pull, and being threatened by a powerful drug dealer is strong motivation, too.
I found myself completely caring for Katrell, and wanting her to get a break, to trust the people who care about her – and not be killed by the out-of-control Revenants she'd brought back from death.
Amazing that this is a debut novel. Can't wait to read more from this author!