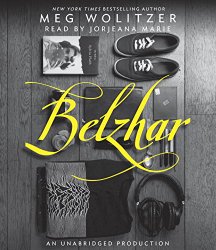 Belzhar
Review posted April 10, 2015.
Listening Library, 2014. 8 hours on 7 compact discs.
Starred Review
2015 Sonderbooks Stand-out
: #5 Teen Fiction
Jam Gallahue has been sent to The Wooden Barn, a boarding school in Vermont for "highly intelligent but emotionally fragile" teens. After she lost her boyfriend, Reeve, she's withdrawn from everything and everyone.
On her first day of classes, her roommate is jealous when they discover that Jam's been put into Special Topics in English. No one knows why everyone claims the class is life-changing. There are only four other students, and a teacher who will retire at the end of the term. They will be studying Sylvia Plath. The teacher, Mrs. Quinnell, gives them each a red leather journal and tells them to write in it twice a week. She'll be collecting them at the end of the term.
When Jam writes in the journal, she's transported to another place, a place outside time, and she is together with Reeve again. She can't do anything new with him in that place, but she can actually feel him and see him and talk with him. When she comes back, five more pages of her journal are filled in with her own handwriting.
The other members of Special Topics in English have their own traumas to deal with. Before long, the class members all figure out that each one is being transported to another place, where things are right again, every time they write in their journals.
But the journals will be completely full by the end of the term.
This story could have been trite and problem novel-ish. But the author has crafted the story well, revealing information a little bit at a time. Each student in the class has a compelling story, and we also learn more and more about what Jam went through, and how she interacts with her fellow-students.
There's a fine overarching message about dealing with trauma and being able to get on with life. But the book is good because the story is told in a compelling way.
It's also a tribute to the healing power of words – both written yourself and written by others.
This book has some healing power of its own.