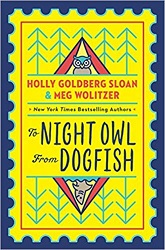 To Night Owl from Dogfish
Review posted August 26, 2019.
Dial Books for Young Readers, 2019. 295 pages.
Review written March 17, 2019, from a library book
To Night Owl from Dogfish is a sort of reverse parent trap story, or at least that's how it begins. The story is told mostly in the form of emails between two girls, Bett Devlin and Avery Bloom. Here's an excerpt from the first one from Bett to Avery with the subject line: you don't know me.
So this is awkward but I'm just going to say it. Your dad + my dad met 3 months ago in Chicago at a "building expo," which was at the downtown Marriott. I'm not going to explain how I know but THEY ARE NOW A COUPLE.
That isn't my business, only it IS my business because my dad wants to send me to a place called CIGI this summer.
I never heard of CIGI. The website says: Challenge Influence Guide Inspire.
That was cut + pasted. Those words are how they got the name. CIGI is a SUMMER PROGRAM IN MICHIGAN FOR "INQUISITIVE TWEENS 'N' TEENS AGES 10-15."
You could already be bored reading this email. But guess what? YOU ARE SUPPOSED TO GO TO CIGI, TOO.
At first, Avery doesn't believe it. She's always had her dad to herself. But when the girls figure out that their fathers are indeed planning to send them to camp to get to know each other and they can't thwart that plan, they can at least refuse to speak to each other and absolutely not become friends. Perhaps they can even break up their dads.
What's more, their dads are planning to take a trip together, and ride motorcycles across China. The girls feel abandoned. But at least that gives them an excuse to bring ipads to camp. They can keep emailing each other yet keep their pact not to talk to each other and absolutely not to become friends.
Let's just say that absolutely nothing goes according to plan. In fact, hijinks ensue.
The two authors weren't going for realistic in this book – but they did write a book that's a whole lot of fun. This is one that goes quickly and you find yourself wanting to read just one more email.