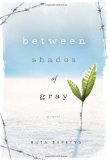 Between Shades of Gray
Reviewed March 13, 2012.
Philomel Books, 2011. 344 pages.
Starred Review
2012 Morris Award Finalist
Here's a work of fiction that constantly made me forget it wasn't nonfiction.
The book opens dramatically:
They took me in my nightgown.
Thinking back, the signs were there -- family photos burned in the fireplace, Mother sewing her best silver and jewelry into the lining of her coat late at night, and Papa not returning from work. My younger brother, Jonas, was asking questions. I asked questions, too, but perhaps I refused to acknowledge the signs. Only later did I realize that Mother and Father intended we escape. We did not escape.
We were taken.
It's 1941 in Lithuania. Stalin has annexed their country, and now he rounds up Lithuanian teachers, librarians, and university professors like Lina's Papa, and their families. They are shipped in cattle cars to labor camps in Siberia.
The author, Ruta Sepetys, was from the family of a Lithuanian refugee who did escape and made it to America. But she researched this book well (even arranging to be locked away in a former Soviet prison!), and her words ring with terrible truth.
This is by no means a pleasant story, and though I was hoping it would end with Lina's freedom, I'm afraid it doesn't. An epilogue tells us that surviving deportees spent ten to fifteen years in Siberia. She does, however, manage to work in a message of hope, of the resilience of the human spirit, and of good even in apparent enemies.
This is a powerful and moving story about an episode of history I knew nothing about. The book is not only beautifully crafted, but does the good work of telling the world a story we should never forget.