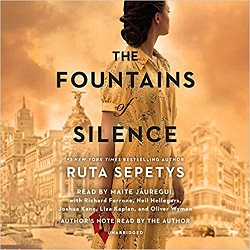 The Fountains of Silence
Review posted May 4, 2021.
Listening Library, 2019. 12.5 hours on 10 CDs.
Review written April 23, 2020, from a library audiobook
Starred Review
This is a richly detailed historical novel set in Franco's Spain after World War II. The Spanish people have learned to be silent about injustices.
The book features a cross-cultural attraction. Daniel's family is visiting Madrid. His father is a rich oil executive from Texas who wants Daniel to take over the family business, but Daniel wants to be a photojournalist. He's hoping to get photographs in Spain to win a contest and get a scholarship to journalism school.
Anna is a maid at the hotel, assigned to facilitate things for their family. Her family was on the wrong side of Franco, but her sister has always looked after her. Anna is tempted to tell Daniel what things are really like in Spain, and he wants to get photos that look deeper.
Anna's brother is helping a friend who plans to be a matador, though he has to train in secret. And several family members are on the edge of something going on with dead babies and the orphanage and adoptions.
There's a slow pace to this book that gives you portraits of many people. I like the slow build of the feelings between Anna and Daniel. I have some quibbles with some big coincidences that happened, but I still enjoyed the story and learned much about life in Spain under Franco.
This was the audiobook I'd been listening to in the car before the library closed for Covid-19. So I brought it into the house, and now I think I'm hooked on listening to an audiobook while making dinner. New times, new habits. This was a good way to begin that new habit.