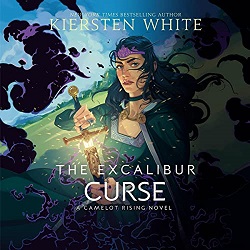 The Excalibur Curse
Camelot Rising, Book Three
Review posted February 3, 2022
Listening Library (Penguin Random House), 2021. 10 hours, 55 minutes.
Review written January 14, 2022, based on a library eaudiobook Starred Review
2022 Sonderbooks Stand-out
:
#5 Teen Fantasy Fiction
The Excalibur Curse is the conclusion to the amazing Camelot Rising Trilogy and was everything I hoped it would be.
The entire trilogy stands everything you know about Arthurian Legend on its head. In this volume, Guinevere has trapped her loyal knight Lancelot in a shield dome protecting Camelot while she sets off to find out who she really is – she has known all along that she was not the real Guinevere.
Or is she? In this book, Guinevere finds out exactly how she came to be and the terrible cost for her identity. She wants to make it right.
But there are dark forces at work, and Guinevere has trouble knowing who to trust. So many with great power do not care about little humans. Guinevere's purposes throughout this book get twisted and diverted, but she's always trying to do what's right.
Guinevere makes a new friend in this volume, Feena, a princess of the northern kingdom who is at first her captor. I am crazy about every word of Elizabeth Knowelden's narration, but I especially loved Feena's Scottish accent representing the northerners.
I don't want to say too much since this is the third volume of a trilogy that you should definitely read in order. Let me just say that this trilogy will forever change the way I think about King Arthur's court. It brings a feminine and compassionate outlook to the whole story and shows the power of being a human girl – a power that is often overlooked.
Such a wonderful trilogy! I can say that confidently after now finishing the whole thing. And I do recommend listening to it because Elizabeth Knowelden's narration is unbeatable. I listened to this even when I should have put it off because of award reading I had to do. Magnificent in every way, but it also makes you think about the human cost in epic history.