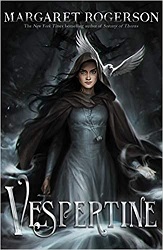 Vespertine
Review posted February 14, 2022
Margaret K. McElderry Books (Simon & Schuster), 2021. 387 pages.
Review written January 24, 2022, from a library book.
2022 Cybils Young Adult Speculative Fiction Winner
Starred Review
2022 Sonderbooks Stand-out
:
#4 Teen Fantasy Fiction
Vespertine is set in a version of medieval Europe troubled by spirits of the dead. Artemisia, a girl with the Sight, lives at a convent in Loraille, training to be a Gray Sister who cleanses the bodies of the deceased so that their spirits won't possess the living. Before Artemisia came to the convent, she was possessed by an Ashgrim, a spirit that had died in fire. The nuns are helping her trauma heal, and she only wants to live a quiet life in the convent.
Then the convent is attacked by an army of possessed soldiers. They need to use the relic of Saint Eugenia, which holds a powerful revenant. But when the wielder of the relic dies in the fight, someone must take control of the relic and save the convent. Artemisia is the person it falls to.
And so begins Artemisia's story. When she wakes from the battle, she's bound and being taken to the capital city to have the revenant exorcised and sent back to the finger bone of Saint Eugenia. But the revenant doesn't want to go back. And Artemisia doesn't want to be exorcised. They come to an agreement. But they also discover that Old Magic is being used in the capital city and many people may be killed and devoured. Can Artemisia save the country?
Artemisia is a wonderful and flawed heroine. She got intense social anxiety and can't handle being around people, but she's hailed as a saint. The world-building in this book is fascinating and we gradually learn the different orders of spirits and the rules for dealing with them. And the conversations between Artemisia and the revenant inhabiting her mind are wonderful, full of spice as they each try not to be controlled.
My plan as soon as my Cybils reading is done is to read Margaret Rogerson's other books. It had wonderfully crafted fantasy with all the details holding together and making sense. (I always appreciate that!) And the characters made me want to spend more time in this world. (Well, not actually – I wouldn't want to live in a world with all those spirits of the dead. But I enjoyed reading about it.)