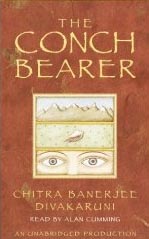 The Conch Bearer
Review posted May 25, 2009.
Listening Library, 2003. 4 cassettes, 6 hours, 31 minutes.
I enjoyed listening to a fantasy tale set in India for a change. The Conch Bearer tells the story of Anand, a boy living with his mother and sister in the slums of Kolkata. Anand remembers better times and dreams of magic as in the tales he likes to read.
Then Anand meets a mysterious old man with powerful magic, magic that is being sought by an evil sorcerer. The man enlists Anand's help to return the magic conch to its rightful home in a secret valley in the Himalayas. Along the way, Anand gains a companion in Nisha, a feisty street girl. Together, they find a way to progress, despite daunting obstacles and dangers, even when their mentor can't be with them.
This was an enjoyable story. I especially liked the Indian setting and the narrator's Indian accent. It gave the story a different slant from other fantasy tales I've read.
I did find Anand's emotional ups and downs annoying after awhile. He seemed to agonize about every decision, and I got to wishing he'd get on with it! This may have been exacerbated by the fact that I was listening to an audiobook. If I had been reading the book, I could have skimmed those parts.
I believe the author has recently come out with the third book about the Brotherhood of the Conch. I am intrigued enough that I am going to have to read on.