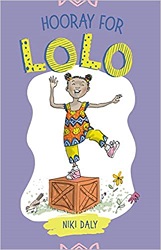 Hooray for Lolo
Review posted July 21, 2022.
Catalyst Press, 2020. 86 pages.
Review written July 23, 2020, from a library book
Hooray for Lolo is a beginning chapter book set in South Africa with four stories about a little girl and her family, doing life.
There's a story about a show-off friend and her birthday party, a really fun story about a library book that all Lolo's friends love, a story about Lolo dealing with appendicitis, and finally a story of Lolo and her family taking care of a baby.
This is a joyful book about simple things important to a child's world with plenty of pictures and simple sentences. I like the window into another culture, which also shows that day-to-day life is much the same.