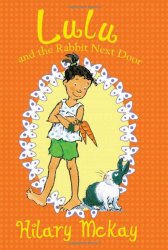 Lulu and the Rabbit Next Door
Review posted July 19, 2014.
Albert Whitman & Company, Chicago, 2014. First published in the United Kingdom in 2012. 91 pages.
Starred Review.
2014 Sonderbooks Stand-out
: #9 Children's Fiction
This is the third beginning chapter book about animal-loving Lulu, and I like each one better than the last (having already been charmed by the first).
In Lulu and the Rabbit Next Door, Lulu gets new next-door neighbors, and they include a boy her age who has a rabbit. Lulu is excited about the rabbit, but the boy, named Arthur, is not. His grandfather gave him the rabbit, named George, when Arthur had asked for games for his Xbox. Arthur pays no attention to George except to feed him and check his water and clean out his cage.
That was true. Lulu knew it was true because she and Mellie checked. They could see George's hutch quite clearly from Lulu's bedroom window. With Lulu's telescope they could see George sitting inside.
Day after day.
Week after week.
Twice a day, at breakfast time and dinnertime, Arthur visited George with food and water. Once a week on Saturday mornings, he put him on the ground, scooped all the sawdust out of the hutch into a black trash bag, and put in fresh sawdust. It didn't take long to do this. The whole job was over in just a few minutes.
During those few minutes George became a different rabbit.
A non-sitting rabbit.
He would begin with hops. Then a stretch.
Then he would begin to run. He ran faster and faster in a racing circle all around the little garden. Sometimes as he ran, he leapt, high into the air. He ran until he had to stop, panting so hard his sides went in and out.
Then Arthur would pick him up and put him back inside his hutch.
To sit there for another week.
It was more than Lulu and Mellie could bear.
Lulu gets to keep George for a week while Arthur and his family go on vacation. George makes friends with Lulu's rabbit Thumper (the one who doesn't get along with her other four rabbits).
After Arthur takes George back to his lonely hutch, Lulu gets an idea. She starts sending letters to George from Thumper. The first one talks about how much work Thumper had making a bed of hay. There is a P.S.: "I am sending you a bag of hay so you can see for yourself what hard work it was."
One after another, George gets notes that show Arthur how many interesting things a rabbit can do. It all culminates with a birthday party for Thumper that is almost stymied when Arthur has a hard time thinking of a present.
This beginning chapter book even kept me entertained. My sister had a rabbit when I was a kid, and I certainly had no idea how many things a rabbit can do. And besides that, the interactions between Lulu and her cousin Mellie with Arthur, who doesn't know what to make of the crazy animal-lovers, are lifelike and fun. I enjoyed Mellie's idea for teaching Arthur to take better care of George – she suggested they should keep him in a cage for a week. Their eventual solution was ingenious and delightful to watch unfold.