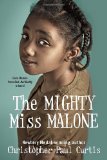 The Mighty Miss Malone
Review posted October 10, 2012.
Wendy Lamb Books, 2012. 307 pages.
Starred Review
The Mighty Miss Malone is a companion book to Christopher Paul Curtis' Newbery Medal-winning book, Bud, Not Buddy. I read Bud, Not Buddy so long ago, I didn't really remember it, so I can confidently say that did not in any way reduce my enjoyment of The Mighty Miss Malone. Bud makes a very short appearance in this book, but mostly this one is just set in the same time period of the Great Depression. This book is all about Deza Malone.
Deza Malone is the smartest person in her class, and she knows it. She wants to be a writer, so of course she uses her dictionary and thesaurus a lot -- too much, according to her teacher.
In the first chapter, Deza shows us an essay she wrote about her family. About herself, she says:
My most annoying trait is that some of the time I might talk a little too much, I can be very verbose. I exaggerate but that is because I come from a family of great storytellers which is not the same as great liars.
Deza's excited about getting extra teaching from her beloved teacher. But then her father loses his job and her family loses their home. Her father goes on the road to find work, and they in turn try to find him.
Along the way, we see Deza, her brother Jimmie with the voice of an angel, and her parents interacting with lots of laughs and lots of love.
Deza's family has a motto: "We are a family on a journey to a place called wonderful." I'm glad I got to go along for the ride.