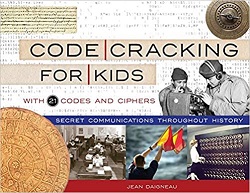 Code Cracking for Kids
Secret Communications Throughout History, with 21 Codes and Ciphers
Review posted March 25, 2021.
Chicago Review Press, 2020. 129 pages.
Review written December 29, 2020, from a library book
Starred Review
This is a nice solid book on codes and ciphers for upper elementary through middle school kids. It's got activities – the 21 codes and ciphers from the subtitle – but it's also heavy on the history of how secret communication has developed, all the way up to talking about how cryptography works today and how important it is in computer applications.
The library got three new books on codes at the same time, and together they make a nice picture of how kids can use codes but also how the world around us uses them. This one is for a little bit older kid. It doesn't have any cartoon illustrations, but uses historical photographs, so it's got a less playful approach, while still full of ideas for how kids can try out what they're learning.
In fact, the first activity this author suggests is making a cryptologist's kit – assembling materials used in making and breaking codes into a backpack. As more activities are presented, they usually suggest something to go into your cryptologist's kit.
The codes and ciphers presented here are rooted in history. They begin with spies and the codes they used, as well as thinking of other languages and writing systems as a kind of code. Some of the historical items the reader gets to make are an Alberti Cipher Disk, invisible ink, a Jefferson Cipher Wheel, a message hidden inside an eggshell, a St. Cyr Slide Cipher, semaphore flags, and a secret book compartment.
When I was in junior high, I'd read about the tap code used by American POWs in Vietnam and used it to send messages with my friends. This is the first book I've seen that includes that cipher. In general, this one has more to say about codes in the present day than the other books I've read for kids.
There's a lot of good information here, and lots of ideas that interested kids can take much further.