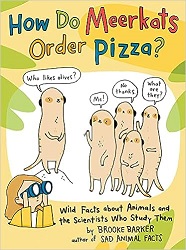 How Do Meerkats Order Pizza?
Wild Facts about Animals and the Scientists Who Study Them
Review posted August 14, 2023.
Simon & Schuster Books for Young Readers, 2022. 200 pages.
Review written March 7, 2023, from a library book.
Starred Review
How Do Meerkats Order Pizza? is a look at how scientists study animals and learn answers to burning questions like that. Okay, meerkats don't actually order pizza, but it turns out that they vote about group decisions. Dr. Marta Manser and her team have been studying meerkats for more than twenty years and determined that they cooperate in this way.
The book tells us about seventeen different scientists and the animals they study and lots of cool facts they've learned. We also learn about how they figure things out. For example, in studying crows, Dr. John Marzluff used masks to discover that crows remembered faces -- and communicated what they knew to other crows. Another story is about Dr. Natalia de Souza Albuquerque studying dogs and used large pictures with happy and angry sounds to determine that dogs know the meanings of basic human facial expressions.
The entire book is full of cartoon illustrations with cartoon animals commenting on the different scientists and facts. Some are just silly, like a horse who gets lost on wrong pages or the Antarctic midge that is convinced it's the best animal in the book.
This book ends up being a lot of fun and super interesting at the same time. You can't fail to learn lots of fascinating things about animals from this book, and kids might also be inspired to become scientists themselves.