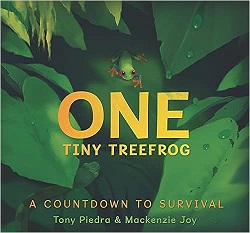 One Tiny Treefrog
A Countdown to Survival
Review posted August 23, 2023.
Candlewick Press, 2023. 36 pages.
Review written August 16, 2023, from a library book.
Starred Review
First, a word of warning. This gorgeous picture book looks like an innocent version of the "and then there were none" counting down book where creatures innocently fall away. This one is a book about predators. So read it, by all means -- your kids will learn loads about the Costa Rican rain forest -- but first make sure your kid won't get too attached to the treefrog tadpoles. It's for a slightly older audience that's ready to learn about the food chain.
The four pages of notes at the back begin like this:
What does it take to become one tiny red-eyed treefrog? (Agalychnis callidryas)

It takes a whole lot of eggs! Red-eyed treefrogs do not care for their young, so laying many eggs is a survival strategy. The more eggs a mother frog lays, the greater the chances that one will beat the odds and grow into a treefrog.
Going back to the start of the book, we've got a beautiful picture with an adult red-eyed treefrog looking on, focused in on eggs on a leaf.
Ten tiny tadpoles grow in their eggs.
And you guessed it, on each page, a predator gets another one of these offspring. Most (but, curiously, not all) of the predators are labeled with small print on the page where they first appear, but some wait until the back of the book. First we see a social wasp that eats an egg. Then the eggs wiggle off the leaf and fall into the water in a nice spread where the reader needs to turn the book to a vertical orientation.
In the water, where they fell with a plink plink plink, there are new predators. We see the tadpoles grow and change. When they start breathing out of the water, there are new predators, and a nice dramatic spread when a large bare-throated fire heron gets one of them. And oh my goodness, the young spectacled caiman is frightening and sinister! (Remember how I said not to show this to the very youngest children? I wouldn't use it in preschool storytime, but one-on-one, safely in a grown-ups lap, children fascinated with animals may love this book.)
And at the end, with the last tadpole escaped and back on a tree leaf, we've got:
Zero tiny tadpoles.

One tiny treefrog.
I can't stress enough how gorgeous the paintings in this book are. There's drama, especially with the heron and the caiman (so be sure your child is ready for it), and lots of fascinating details about Cosa Rican wildlife all throughout the book.
A truly wonderful book for early scientists. But I did laugh about all the eating that happens in what looks like such a sweet book.