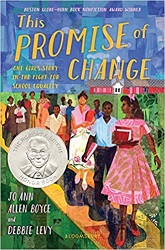 This Promise of Change
One Girl's Story in the Fight for School Equality
Review posted March 19, 2020
Bloomsbury Children's Books, 2019. 310 pages.
Review written January 20, 2020, from a library book
Starred Review
2020 Robert F. Sibert Informational Book Honor
Jo Ann Allen was one of the "Clinton 12" – black children who went to the white high school in Clinton, Tennessee, in 1956 when the Supreme Court so ordered. It started out calmly enough, but things got worse and worse.
The main story is told in Jo Ann's voice, in verse. Many are free verse, but many are also in rhyme, using poetic forms. There's an immediacy about the poems, and we get the story of how it felt to be Jo Ann in the middle of such big events. I wouldn't have necessarily liked an author making this up, but I like that Jo Ann herself was an author of this book, so we can trust that she got the feelings right.
Between the poems are headlines from all over the country talking about the events that Jo Ann was part of. There are photos at the back of Jo Ann and her classmates.
Because this book is in verse, it's all the more readable, and helps the reader understand how it felt to be there.
I think my favorite poem in the book is this one toward the end:
A REAL VICTORY
(THURSDAY, DECEMBER 6)
The day before yesterday,
the same day
we went down the Hill with Reverend Turner
and all that happened
happened,
there was also an election.
Not an election for president
(that was in November; Ike won again)
but for local officials
like the mayor and the city aldermen.
The results are in and
I don't know if people voted
after hearing what happened at school.
I don't know if people felt
things have gone too far.
I don't know if A led to B but –
every single
white supremacist
segregationist
candidate
lost.
Before all this,
before all that happened
happened,
I thought there was nothing I could do
about segregation.
I'm just a girl, I thought,
one girl who tries
to look at the good side of things,
because there's nothing I can do
about the bad.
I'm still that good-side-looking girl,
but now when I see the bad, I'll think –
I'll know --
there's something I can do about it.