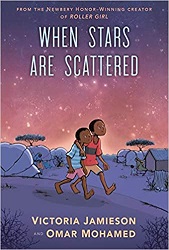 When Stars Are Scattered
Review posted January 13, 2021.
Dial Books for Young Readers, 2020. 264 pages.
Review written August 4, 2020, from a library book
2020 Schneider Family Middle Grade Honor Audiobook from Listening Library, 2020, narrated by a full cast. 3 hours, 42 minutes.
Library eaudiobook reviewed December 30, 2020
Starred Review
2020 Odyssey Honor
2020 Sonderbooks Stand-out
:
#1 General Children's Nonfiction
In When Stars Are Scattered, award-winning graphic novelist Victoria Jamieson took the story of a boy who grew up in a refugee camp and put it in graphic memoir format.
Omar Mohamed's first memories are in a refugee camp. He doesn't like to remember the day in Somalia that put him there, when his father was killed and his mother told him to take his little brother and go to the neighbor's house and she would find him. The neighbors helped, but they ran to a refugee camp in Kenya. Years later the boys are bigger and that's the only home they've known.
Omar's little brother Hassan doesn't say anything except one word, "Hooyo," and he's had seizures in the past. Omar feels responsible for him. They have a foster mother assigned to them by the UN, but Omar is afraid to leave his brother long enough to go to school.
This book takes us through his choice to go to school, to trust other people to look after Hassan, and try to make a life there and apply for resettlement. The whole resettlement process takes years, and only a few are even chosen to interview, and they have no information about the status of their case.
The graphic memoir format makes this story easy to follow, but it's not an easy story. It moved me to tears in spots. But even the fact that Omar is telling his story gives you the hint that there will be a happy ending, and indeed there is, at least for Omar. He now lives in the United States and has founded an organization that helps students living in refugee camps.
But this is a story about kids and for kids. The characters are children and talk and act like children. It's very hard to imagine being in that situation, but the authors get across what it would be like for children who know nothing else.
We actually have a large local population of families from Somalia. When the pandemic is over and I see them in the library again, I hope they will find this book. But I also hope that it will be widely read by many who have never experienced anything remotely like this, because it's hard to imagine reading this story and not being filled with compassion.
Additional thoughts on the audiobook:
In December, I listened to the audiobook version of this book. Normally, I'd never listen to the audiobook form of a graphic novel, but both versions were nominated to be Capitol Choices selections. As soon as I began listening, I quickly understood why. This is an amazing audiobook production, with different people voicing different characters, and lots of different sound effects to set the mood (crickets at night, children's voices in school, the sound of a broom when he was cleaning his tent, and more).
Listening to the book, I could hear authentic accents and even the voice of adult Omar at the end. It pulled me into the story, and if I hadn't already seen the wonderful illustrations, I wouldn't have even missed them. Who would have thought that such a visual medium as a graphic novel would work so well as an audiobook? Perhaps it helps that they used a full cast, since that's similar to using speech bubbles in a graphic novel -- you don't have to talk about which character is speaking -- you see (or hear) that someone new is talking.
I've decided the ultimate experience of this book would be to listen to it while looking at the art of the graphic novel version. Both are wonderful on their own. I'm glad I didn't miss out on either one.