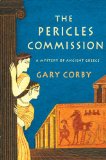 The Pericles Commission
Review posted November 10, 2011.
Minotaur Books, New York, 2010. 335 pages.
Starred Review
2011 Sonderbooks Standout
: #3
Other Fiction
The Pericles Commission has one of the best first sentences ever:
A dead man fell from the sky, landing at my feet with a thud.
The story that follows is an intriguing murder mystery, set in the political turmoil of ancient Athens establishing democracy.
That was enough information for me to know I wanted to read this book. I was not disappointed. The mystery is satisfying and action-packed. And there's plenty of historical details to make you believe this could really happen. Our hero, the narrator Nicolaos, even meets a spunky priestess who gets involved in the mystery, and the author gives us reasons in the notes at the end why her role is actually believable.
One thing I loved about the book was how Gary Corby mixed in actual people who lived in Athens at the dawn of democracy, and explained in an Author's Note how it could all have been true. The dead body in the first sentence belonged to Ephialtes, who really did bring democracy to Athens and really was murdered days later. And there really were political reasons for powerful people to have him killed -- which Gary Corby brings to play in his book.
Pericles is the politician who gives Nicolaos a commission to solve the crime, and more and more comes to be at stake for Nicolaos. But my favorite real-life character is the annoying little brother who asks lots and lots of questions: His name is Socrates.
There's a list of characters in the front, which helps keeping the Greek names straight. Stars beside the names of the actual people show up on more than half of the names in the list. So besides getting an excellent mystery, readers also learn a lot about ancient Athens, in a much more memorable way than a text book.
One thing I do feel bad about: I liked the start of this book so much, I ended up buying a copy. My son has always loved stories of ancient Greece, so I want him to read it. That's not the bad part. The bad part is that once I finished reading it, it's taken me months to actually write the review, since it's not a library book and doesn't have a due date. I hope to do much better when the sequel, The Ionia Sanction, comes out next month. I'm pre-ordering it today, in fact.
PS: Even worse, I wrote this review last month and didn't get it posted until now! When I heard that the Ionia Sanction is out (Where's my copy, Amazon?), I thought it was HIGH time I finally posted this review! I loved this book! Don't let my slowness make you miss it!