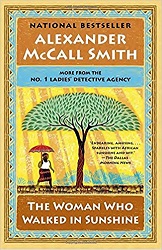 The Woman Who Walked in Sunshine

Review posted November 9, 2017.
Recorded Books, 2015. 9 hours 15 minutes on 8 discs.
This is the 16th book about Precious Ramotswe of the No. 1 Ladies' Detective Agency in Botswana.
I love these books, especially loving the characters and the relationships that have developed through the series. However, it feels like the action moves more and more slowly each time, so I've taken to listening instead of reading, because I tend to be more patient with audiobooks. And the lovely narrator's voice has finally settled for me the pronunciation of "Mma" and "Rra."
There were still times when I was annoyed with the slow plot arc, since more than once Mma Ramotswe was thinking long and hard about whether she should talk to Mma Makutsi. But the overall story had the usual one or two interesting cases. This time there was one about a scandal in the past of a late government official as well as the story of a little street boy who vandalizes the tiny white van.
But the overall story is about Mma Ramotswe going on holiday. It's not her idea – her staff seem to be conspiring to get her to take one. Now that she's a partner, is Mma Makutsi plotting to take over the agency? However, taking a holiday is more difficult than it would seem.
Truly, a woman with a loving husband is like a woman who walks in sunshine. Listening to this book will bring sunshine into your life.