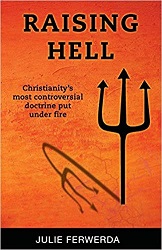 Raising Hell
Christianity's Most Controversial Doctrine Put Under Fire
Reviewed October 31, 2019, from my own copy, purchased via Amazon.com.
Vagabond Group, 2014. 293 pages.
Starred Review
2019 Sonderbooks Standout
:
#2 Christian Nonfiction
I first came to believe that God really will save everyone, that it's literally true that "at the name of Jesus every knee will bow" and that "as in Adam all die, so in Christ will all be made alive" from reading writings of George MacDonald in the 1990s and then checking with Scripture. Since that time, I've discovered many more books by people who believe the same thing, and I've reviewed them on my website. Each one has something new to offer, and together they bolster my picture of a great big triumphant God of love.
Raising Hell is the first book I've read about universalism that's written by a woman. (About time!) This book is for laypeople and brings an emphasis on how you can study the Bible for yourself – how you can check for yourself on whether these things are true. She references many Bible study tools available to anyone with internet access. She says in the Introduction, "Raising Hell is intended to be the starting place, the opening of a most important conversation that I hope continues well beyond this book. One of my goals within these pages is to teach the reader how to do their own research by using a large variety of scholarly, historical, and informative resources that are easily accessed by anyone and everyone."
Before I get into this, let me mention that, like all the books I've read on universalism, she has great arguments for universalism. Let me pull out some quotations I like:
This one's from the Introduction:
Universal Reconciliation is the belief that all people for all time will eventually be reconciled to God – that this lifetime is not the "only chance" to be saved – but that there is only one way to God, through Jesus Christ.
Through a very intentional plan that reaches into future ages, I believe the true Gospel is that all people for all time will be willingly and joyfully drawn by the unconditional, irresistible, compelling love of a Father into a relationship with Him through His Son. In the end, every knee will have bowed, and every tongue will have confessed Jesus as Lord, giving praise to God (see Romans 14:11, Philippians 2:10).
Like most universalist authors, she makes good points about the character of God, particularly looking at the parables in Luke 15 of the lost sheep, the lost coin, and the lost son:
Throughout this book, we are going to explore how understanding the message of these parables and learning the heart of the Father will deliver the fatal blow to any such notion of an everlasting hell, or even the more palatable version of "eternal separation from God." As we piece together a remarkable story, we'll find that it can't be possible that He would turn away even one son or daughter, and that every person, given enough time to "starve among the swine," will come to the realization that home is where they belong. Even before they can round the bend for home, they will be welcomed with the happy reassurance that the eyes of their true Father never stopped searching the horizon, ready to run to them with loving, open arms. If Jesus' words are to be our instruction in the matters of life, then we can have assurance that love is the healer of all things. Our Father will ultimately never give up on nor ever reject – ever!
She talks about how her own quest began by noticing significant translation differences between different versions of the Bible, in many cases contradicting one another. This helped her realize that the English Bible we read – whatever version we choose – is not going to perfectly translate the original language. And the first word she looks at which is very suspiciously translated is hell.
The notion of hell is suspiciously missing from the OT as the destiny for most of mankind, unless you read the KJV or TM (The Message), both of which include the word hell over thirty times. Do KJV and TM know something others don't? Why the inconsistency? . . .
In the rest of the popular modern versions, the literal translations, and the Hebrew and Greek texts, there are NO references to hell in the OT, or of the concept of everlasting tormenting flames – not one.
Then she looks at the New Testament.
Red flag alert. There are essentially three different Greek words that translators inconsistently pick and choose to translate as "hell" -- Hades, Gehenna, and Tartaroo, but not one conveys hell as we know it and teach it today.
She looks in detail at the references where these are mentioned and how they can easily – and more naturally – be translated differently.
She also looks at where the idea of eternal hell came from. It wasn't prevalent in the church until Augustine popularized it. He spoke Latin instead of Greek, and our early English translations were translated from the Latin rather than from the original Greek, so our understanding has drifted from what the original writers were talking about.
After looking at teachings on hell in the first part of the book, the second part looks at the character of God and the important teaching of the Bible that love never fails. The focus on fire is over and over combined with talk of a refining, purifying fire.
Is it not the same with our own children, each their own yet fully out of us? When I think of the bond earthly parents have with our children, I know it is utterly impossible that God would ever ask us to lose a part of ourselves forever, any more than He would ever intend to give up a part of Himself. His answer is not damnation, but regeneration of all His children into purified sparks!
Jesus always esteemed children because He came to show the heart of the Father toward His children. A true father's love cannot be earned, and it cannot be done away with. Just as we would never give up on our children, God will never give up on His children; His love will not fail them.
The third part of this book looks at Hebrew themes carried throughout both the Old and New Testaments. This is where she covers the word that all universalist authors bring up, aion, which is incorrectly translated "eternity" in many English versions.
Eternity had no place in the mind of the early Hebrews, probably because neither their Scriptures nor their dealings with God included any such concept. In fact, the Scriptures in Hebrew and Greek were solely written with the perspective of generations or long periods of time (eons or ages), unfolding like a chapter book. About the closest you get in the Scriptures to the concept of never-ending is the word for "immortality," (athanasia) which literally means "un-death."
Julie Ferwerda has lots to say about the mistranslation of aion for "eternity" or "forever," or actually many other words that are used. But I do love it when she points out something I noticed when I did my blog series, A Universalist Looks at the New Testament: Very often, eonian life is talked about in the present tense, as something we are receiving right now. After a list of many verses like this, she says:
There are many more such verses you can look up, correcting them with eonian life and the proper verb tense to experience the greater truth that Jesus came to give us life right now -- not just later – and that people's lives are markedly improved when they believe, understand, and live the true Gospel message.
She does talk about the specific ages and covenants and harvests she sees in Scripture. I'm not sure I would get so specific, though her application of some Old Testament concepts of harvests and the Jubilee is fascinating. I am sure that I do agree with this:
We are living in a plan of ages, but the purpose of these ages – at least the ages we know about – is going to come to an end, as will all of the eonian (temporary) elements in them. The Scriptures do not provide detail as to what happens after the Story of the ages is complete, when all prodigals have been reconciled to their true Father, but we do know that all forms of death will have been destroyed and God will be "all in all" (1 Cor. 15:28).
Her perspective also sheds great light on the problem of evil. With her big picture view, she is able to bring me where I can see it like she does:
I have come to regard the problem of evil like a tension in a compelling novel, juxtaposed to the ultimate, euphoric resolution. In any good novel, the reader longs to find resolve, but has to wait until the final chapter to see how it is accomplished. In our Story, I believe God's expression of love is exponentially expanded, not diminished, through the necessity of evil. Evil does not reign supreme or have the final say, but is only a limited, temporary tool or a means to an end of a great, full circle, happily ever after.
She sums up so nicely the effect believing in universalism has had on my own life:
When you realize that God fills everything and nothing is outside of Him, suddenly life around you becomes less dangerous, more hopeful, promising, and beautiful. The skies look bluer, the trees look greener, every single person you meet is more valued – even the filth and pollution is less oppressive, and darkness is less suffocating.
Thank goodness I don't have to try to play God anymore. I can completely trust Him with my kids, my marriage, my finances, my health, and my future. I can simply trust Him in all things because His unchangeable plan has already determined that everything will work out in the end. In other words, if it hasn't worked out yet, it's not the end.
Like her, I find this teaching is full of joy:
This is the kind of Gospel – where no one is a throw away – that breeds life, and joy, and continuous wonder. This Gospel births a sincere, deep love for people, and the excitement to share the truly unconditional love of God with everyone. It is so gratifying to know that every single kind word or deed offered will someday result in the growing of a seedling or the bearing of fruit from a person created in the image of God. No effort will ever be wasted or insignificant. The joy and energy this realization has brought into my life is positively captivating and simply impossible to fully articulate.
The final section of the book contains resources – resources so the reader can study these things for themselves and figure out if these ideas are true. She lists several online resources, gives a chapter called "Simple Steps for Identifying Mistranslations," and another chapter that looks at commonly misunderstood concepts in Scripture – with their Strong's number so you can look up the original Greek word involved.
Several more resources are offered. One that especially gratified me is the final list, titled "Modern, Well-Known Commentaries of Aion and its Derivatives." She gives quotations from nine different commentaries that agree that aion does not carry the meaning "unending." These begin with Ellicott's Commentary on the Whole Bible, The Interpreter's Dictionary of the Bible, Lange's Commentary American Edition, and six more.
Why does this gratify me? Well, not long ago two different people – one a stranger on Facebook and the other my former pastor – pointed me to one particular Greek dictionary that said that aion can be translated "eternal," and they said that was the final word on the subject. I didn't have a resource those arguing with me would recognize as equally authoritative. Now I have nine.
I always hesitate to write a long review about a book that makes a persuasive case for something – lest you think that reading my brief summary of the argument is as good as reading the book itself. But in this case I wanted to give you a taste of the good things contained in this book. And like Julie Ferwerda, I challenge you to examine these ideas yourself. This book offers a wonderful jumping-off point.