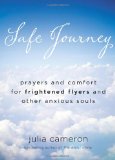 Safe Journey

Prayers and Comfort for Frightened Flyers and Other Anxious Souls


Review posted August 22, 2013.
Jeremy P. Tarcher (Penguin), 2013. 151 pages.
This is a lovely little book, in paperback and designed to easily fit in a travel bag for airplane reading. I've never really been afraid to fly, but Julia Cameron writes in a way that makes her feelings universal, even if you're not dealing with that particular fear.
She approaches her fear of flying with story. She tells about a memorable flight, telling us her frightened prayers she sent to God, and then the reaction of the two frightened flyers sitting in her row. She talked with one seatmate about praying to overcome her fear -- and then he ended up flying back on the same flight as she did!
Once at her destination, she got strategies from friends, like postponing worrying and acting as if. Those strategies, combined with prayer and helping someone else, healed her fear of flying, as demonstrated when she took a third flight to meet her firstborn grandbaby.
The story's nice, but Julia Cameron's prayers are inspiring. She tells God how it is and asks for what she needs, simply and directly. Here's one example:
Dear God, I am frightened.
Please let us find smooth air again.
Get us out of this turbulence.
Thank you for your help.
Amen.
She also intersperses quotations from others about flying and tips for the reader to try. Even though I'm not plagued by a fear of flying, this book was a lovely reminder to trust God about things I was worried about.