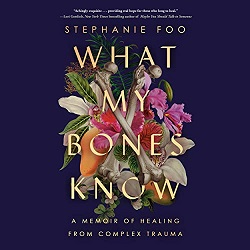 What My Bones Know
A Memoir of Healing from Complex Trauma
Review posted January 19, 2023.
Random House Audio, 2022. 10 hours, 3 minutes.
Review written December 22, 2022, from a library eaudiobook.
Starred Review
2022 Sonderbooks Standout
:
#1 General Nonfiction
This book is amazing. It's full of helpful information about healing from complex trauma, and it also tells a compelling story about a resilient person trying to cope with awful things in her history.
Stephanie's a journalist. So when she got a diagnosis of Complex PTSD, she documented her journey of trying to cope and trying to heal.
Once we find out what her childhood was like, the listener of this audiobook isn't at all surprised by her diagnosis. Her parents subjected her to horrific abuse -- and then abandoned her when she was a teen. That she came to have a functional life and successful career is amazing.
But Stephanie was thrown by her diagnosis. She began reading about C-PTSD, which develops from chronic trauma over a long period of time that a person has to deal with on a daily basis and never feels safe. Her reading told her that C-PTSD has permanent negative effects on people's lives, and she became afraid that she was incapable of good relationships or a happy life -- that everything she did would be destructive.
And there were some low points in her journey and some unhelpful therapists and methods of therapy. But the book progresses to where she came to understand and make peace with her background and learned ways to connect with others and build a meaningful, happy life. In the audiobook, she includes recordings from very helpful sessions she had with an expert on C-PTSD. The book builds to her wedding -- where she realized she'd built family and community, and then to the time of the pandemic -- where she learned that the coping skills she'd learned as a child were actually superpowers when faced with an actual crisis. They aren't all bad.
And all of this was fascinating storytelling, combined with deep insights about life and coping and building relationships and healing. A truly wonderful book. You'll get something out of this no matter what your background.