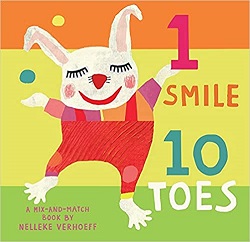 1 Smile, 10 Toes
Review posted February 12, 2022.
Barefoot Books, 2021. 24 pages.
Review written December 10, 2021, from my own copy, purchased via amazon.com
Starred Review
2022 Mathical Book Prize Winner
, PreK
1 Smile 10 Toes is now one of my favorite board books. As with many board books, this one is part toy. All the pages except the last one are split in two, featuring a friendly imaginary animal all the same width in the middle. So you can turn parts of pages to mix and match the tops and bottoms and create many different kinds of creatures.
But the learning part is that each half-page has something to count. The only text is a numeral with the body part being featured. Some examples on top are 8 Feathers, 7 Curls, 3 Beaks, 5 Eyelashes, 4 Ears, 10 Spikes. Some examples on the bottom are 8 Toes, 9 Claws, 4 Feathers, 10 Hooves, 2 Thighs, 9 Fingers.
You can tell from the examples, the author didn't worry about being conventional. I imagine that adults will get tired of counting things for kids long before a child will get tired of looking at these pages. I remember as a small child being fascinated with mix-and-match books, and this one has the additional bonus of teaching counting.
There's no order to the number of things featured – all the numbers between 1 and 10 are featured, but in random order, which works well with the mix-and-match theme. You might want to wait to use it with a kid who knows that having 4 ears is silly.
No matter what, it's a lovely way to give a small child endless things to count.