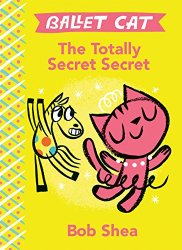 Ballet Cat
The Totally Secret Secret
Review posted March 24, 2015.
Disney Hyperion, May 2015. 56 pages.
Starred Review
2015 Sonderbooks Stand-out
: #7 Picture Books
Big thanks to Travis Jonker for pointing out to me the genius that is this book. I had just gotten an Advance Reader Copy at ALA Midwinter Meeting, but I might have overlooked it since it is so thin.
This is a delightful choice for beginning readers. Cartoon illustrations with the dialog in speech bubbles keep the focus on the interaction between characters. And this is friendship drama as it really happens, folks!
As the book begins, Ballet Cat asks her friend Sparkles the Pony to pick what they should play today. At first things sound good – Crafts, checkers, a lemonade stand. But then Ballet Cat thinks of objections to each one. They shouldn't leap with scissors; their kicks might knock over the checkerboard; and the lemonade will splash when they spin.
Sparkles' body language is eloquent – and it's lovely to see how Ballet Cat completely misses it. (But the reader will see it loud and clear.)
Sparkles says, "What if, maybe, we don't spin today?"
Ballet Cat's answer is, "HA! Don't spin? Good one, Sparkles."
Here's the scene where they decide what to play:
Ballet Cat: Now, let's see. What goes well with leaping, kicking, and spinning? Think, cat, think!
Sparkles the Pony (in very tiny print, with drooping eyes): We could play ballet.
Ballet Cat: Ballet? There is an idea! Leaping, yes. Kicking, yes, yes. Spinning, yes, yes, YES!
Great idea, Sparkles. How did you ever think of it?
Sparkles: We play ballet every day, Ballet Cat.
Ballet Cat: Oh, right.
After some play, which Ballet Cat enters into exuberantly, she figures out that something's wrong with Sparkles. It turns out that Sparkles has a totally secret secret. He is afraid that if he tells the secret, Ballet Cat will not be his friend.
Well, the reader is not surprised by the secret, so I don't think it's a spoiler to give it away. Sometimes Sparkles doesn't want to play ballet.
Can their friendship survive this disaster? Well it helps that Ballet Cat has a secret secret of her own.
This is a wonderful addition to books for beginning readers. I stand in awe of cartoonists like Bob Shea who can express so much emotion in such seemingly simple pen scratches.
Absolutely brilliant. And the best news is that it's the start of a new series. I plan to booktalk this book with the younger elementary grades, because I can't imagine a better way to entice kids to reading.