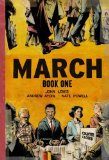 March
Book One
Reviewed March 8, 2014.
Top Shelf Productions, 2013. 123 pages.
Starred Review
2014 Coretta Scott King Honor Book
This is not a graphic novel, it's a graphic memoir, and all the contents are true. Congressman John Lewis tells about what it was like for him as a young man involved in the Civil Rights Movement. The comic book format combined with the personal remembrances give this book an immediacy that will stick with the reader.
There's a frame that's in place on the day of Barack Obama's inauguration. The congressman is telling two kids visiting his office what it was like when he was their age. And then he tells how he first heard about people speaking up for civil rights, and how he went to nonviolence training, participated in and organized sit-ins, and began the Student Nonviolent Coordinating Committee.
This is only Book One. There's a sort of prologue scene crossing the Edmund Pettus Bridge during the March on Washington. We don't get that far in the story, though we do learn, right at the start, that of all the speakers that day, John Lewis is the only one who's still around.
This graphic memoir makes history come alive in a dramatic way.
I'm reading it because it's the last contender I hadn't read for School Library Journal's Battle of the Books, which starts next week. I'm not surprised to find some powerful reading here. It fits in well with the other contenders.