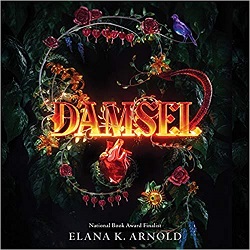 Damsel
Reviewed October 16, 2019.
HarperAudio, 2018. 7.75 hours on 7 discs.
Starred Review
2019 Printz Honor winner
2019 Sonderbooks Stand-out
:
#1 Teen Fiction
First let me say that I have a new favorite audiobook narrator. Yes, Elizabeth Knowelden has a wonderful accent and her voice is a delight to listen to, but she also has the ability to pack every word with drama. When I raved about her reading this book and tried to imitate her, I simply sounded overdramatic, but when she does it, she makes every word seem important. She achieves exactly the right amount of emphasis and compels your attention.
The book itself is amazing.
Now, there's a startling ending – but I had a strong clue what that ending would be from hearing the author's Printz Honor speech. I had a feeling that Ama would not meekly succumb to the forces urging her to be a good little girl and submit. Let me say only that this book is perfect for the "Me Too" generation.
For generations, the prince of the kingdom of Harding, in order to become king after his father dies, must conquer a dragon and rescue a damsel. He will bring the damsel back to his castle and marry her at the Winter Solstice. They will have one child, a son, who will repeat this process after them.
Ama wakes up in Prince Emory's arms, and he tells her that he rescued her from a dragon. She doesn't remember anything from her life before. As they journey back to the castle, Emory kills a mother lynx that he thought was threatening Ama (she wasn't), and Ama takes the baby with her to the castle. She names the baby lynx Sorrow.
At the castle, Ama must learn her place. There are still some months before midwinter, and she must learn her role in the scheme of things. But it's almost as hard for Ama to fall into place as it is for Sorrow.
The reading of this story is outstanding, but this is not a family tale. There are many vulgar moments, and sexual things explicitly described. And Prince Emory is not a nice man.
Honestly, if I didn't expect Ama to triumph, I would not have been able to listen to this story, so I think it's safe to tell you that the horrible things that happen along the way make the ending of this audiobook all the more sweet.