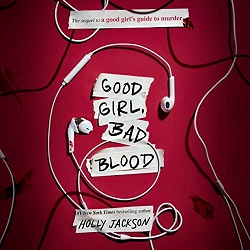 Good Girl, Bad Blood
Review posted July 19, 2022
Listening Library, 2021. 10 hours, 48 minutes.
Review written May 24, 2022, from a library eaudiobook
Starred Review
2022 Sonderbooks Stand-out
:
#4 General Teen Fiction
Big thanks again to my coworker Lisa who recommended the Good Girl's Guide to Murder series to me! This is Book Two. Each book has a complete case, but you'll want to read them in order so you don't have the surprises in the earlier books spoiled.
Pip is a high school senior and spent the last book solving a cold case of murder and disappearance as her Senior Project. She told about the case in a wildly popular podcast. But now her parents want her to slow down and focus on school. Her life was in danger at the end of the first investigation, and she was obsessed with finding out more. So when one of her best friends comes to Pip about his missing brother Jamie, Pip tries to say No.
But when the police don't consider Jamie's disappearance to be high-risk, Pip feels she has to get involved. Jamie's mother and brother beg Pip to use her new notoriety to spread the word about Jamie's disappearance and get more people looking.
And so a new case begins, and a new season of Pip's podcast. Pip herself saw Jamie at a memorial service for the victims of her last case. So now her task is to trace Jamie's movements after that event. But getting answers brings more questions. And yes, some of the answers bring danger to Pip and others.
Being a teenage sleuth sounds like a lot of fun, but this author explores how investigating affects Pip's life and relationships. Besides a gripping mystery, these stories make us care about Pip and her family and friends. And we think with her about what it takes for justice to be served.