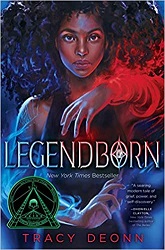 Legendborn
Review posted April 13, 2021.
Margaret K. McElderry Books (Simon & Schuster), 2020. 498 pages.
Review written December 7, 2020, from a library book
Starred Review
2020 Cybils Finalist, Young Adult Speculative Fiction
2021 Coretta Scott King - John Steptoe New Talent Author Award
Legendborn takes the idea of inherited magic from the Knights of the Round Table and King Arthur – and throws an African American girl into the mix, making this an exceptionally timely fantasy with a classic feel.
16-year-old Brianna (Bree to her friends) is starting at the Early College program for high school students at University of North Carolina Chapel Hill while still grieving her mother's death. Right away, at a party she probably shouldn't have attended, she witnesses a magical monster subdued by someone with apparently magical powers. She then watches him erase the memories of the other witnesses – but she still remembers.
Then she's assigned a student mentor who's very attractive – and involved with that same group of magic-users. And she's beginning to remember someone similarly trying to erase her memories at her mother's death. So she decides to become a Page in the Order of the Round Table, with a chapter at the university, to try to find out more and if there was a connection with her mother.
It turns out that her student mentor is a direct descendant of King Arthur himself. And more and more Shadowborn creatures are coming through gates and a war is looming.
But at the same time, Bree learns that her mother practiced a different kind of magic. Could this be why the mesmers of the Merlins don't work on Bree? So she's learning about Root magic and aether magic from the Order of the Round Table all at the same time. And since the Order involves families that have been passing on their legacy for hundreds of years – she does encounter plenty of racism in their midst.
The world-building is a little bit murky, but since Bree is learning as she goes, some of that is natural to the plot. And I'm not saying too much, because Bree learning about the magic and how it is wielded is part of the story.
But we've got a modern-day African American teen learning to wield legendary magic and how to fight evil demonic creatures while figuring out college residential life and racism and being attracted to someone who may become the Awakening of King Arthur. There are twists and turns all along the way, with some big surprises at the end. I'm not going to be able to resist finding out what happens next whenever a sequel comes out, because temporary matters resolve, but the story is definitely not finished.