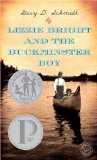 Lizzie Bright and the Buckminster Boy
Review posted February 9, 2010.
Clarion Books, New York, 2004. 219 pages.
Starred Review
Sonderbooks Stand-out 2009
: #4 Other Teen Fiction
I read this book as one of my assignments for the class I took on the Newbery Medal. I'm afraid I would have liked it better if I hadn't just read Kira-Kira, the Newbery Medal winner for 2005. I was ready for something cheerier. An awful lot of people die in this book! So it, too, is better if you want a book that makes you cry.
However, this is a truly wonderful book. Well-crafted, with characters that come alive and plenty of humor mixed through the tragedy. There's some injustice that doesn't get righted, but many eyes are opened, and the story is satisfying and uplifting.
Turner Buckminster had lived in Phippsburg, Maine, for fifteen minutes shy of six hours. He had dipped his hand in its waves and licked the salt from his fingers. He had smelled the sharp resin of the pines. He had heard the low rhythm of the bells oon the buoys that balanced on the ridges of the sea. He had seen the fine clapboard parsonage behind the church where he was to live, and the small house set a ways beyond it that puzzled him some.
Turner Buckminster had lived in Phippsburg, Maine, for almost six whole hours.
He didn't know how much longer he could stand it.
Turner is the new minister's son. There's a lot of pressure on the minister's son in Phippsburg, Maine, in the early 1900s. Turner would like to light out to the Territories, to somehow escape. He doesn't play baseball like they do. He can't jump off the cliff like they do. He gets picked on by the other kids. He gets criticized by the older people. It seems he can't win, can't fit in, can't find a friend.
And then he meets Lizzie Bright Griffin.
Lizzie is the Preacher's granddaughter from the community of colored people who live on Malaga Island. Turner meets her down by the shore when he was trying to be alone, practicing hitting a baseball.
Lizzie teaches him how to hit the ball every time. They dig clams together. They become friends. Lizzie even takes him out to Malaga Island.
But people in his father's congregation don't approve. They want to develop tourism in Phippsburg and feel the community on the island is an eyesore and needs to go.
The plot is much more intricate than this summary suggests. Turner makes an interesting friend out of an old lady who disapproved of him at the beginning, and she meets Lizzie, too. Meanwhile, he's trying to gain his father's approval, yet he can't seem to stay away from Lizzie Bright.
This book will stick with you long after you finish it.