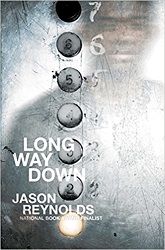 Long Way Down
Reviewed November 21, 2017.
Atheneum, 2017. 306 pages.
Starred Review
2017 Sonderbooks Stand-out
: #5 Teen Fiction
2018 Newbery Honor Book
2018 Printz Honor Book
2018 Coretta Scott King Author Honor Book
2018 Odyssey Honor Audiobook
Will's brother Shawn just got shot. And Will is sure he knows who did it.
And there are three rules Shawn taught him:
No crying, no matter what.
No snitching, no matter what.
If someone you love
gets killed,
find the person
who killed
them and
kill them.
So Will takes Shawn's gun and sets out to kill the person who killed him.
He gets in the elevator on the 8th floor. And on each remaining floor someone new gets on… someone who's dead.
The first dead person in the elevator is Buck – a brother even older than Shawn. He knew the Rules, too, and taught them to Shawn.
In fact most of the people who show up on this elevator lived by the Rules. The thing is: They're dead now.
This is a novel in verse (and artistic, well-crafted verse), so it's quick reading. It does pack a punch.