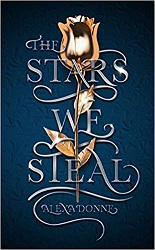 The Stars We Steal


Review posted September 6, 2019.
Houghton Mifflin Harcourt, February 2020. 389 pages.
Review written July 12, 2019, from an advance reader copy picked up at ALA Annual Conference
The Stars We Steal is a science fiction retelling of Jane Austen's Persuasion. Because I love Persuasion so much, and because I love Diana Peterfreund's science fiction retelling of it, For Darkness Shows the Stars, and because I loved Alexa Donne's science fiction retelling of Jane Eyre, Brightly Burning, I picked this one up eagerly after I got the advance reader copy at ALA Annual Conference.
I'm afraid I was a little disappointed. It's still a fun romance, with an interesting science fiction setting, but it's not a terribly faithful retelling and doesn't have the poignancy of the original.
Right off the bat, the difference in the age of the heroines made me less sympathetic. Anne Elliot in Persuasion, was nineteen years old when she was in love with Frederick Wentworth and was persuaded to reject him. The story takes place seven years later. She is twenty-six years old and has no prospects for marriage. In The Stars We Steal, Princess Leo Kolburg is nineteen years old. She was briefly engaged to Elliot Wentworth when she was sixteen, but her father and aunt opposed the engagement. I probably shouldn't be less sympathetic to younger love, but Leo seems to have much more chance for finding someone new than Anne Elliot did.
Anyway, that aside, Leo is a princess living in a society centered in space – humans have taken to space while waiting for earth to warm up from a human-induced ice age. She's a princess, and lives with her father and sister – but they are running out of money, so Leo has rented out their ship while they stay with their aunt on the Scandinavian and participate in the big once-every-five-years match event where all the eligible young royals and nobility get together to find matches.
Now, Leo needs to find a match with money to save her family's ship. But she would rather get the money with her water filtration invention. Meanwhile, Elliot is now wealthy, captaining a ship of his own, and ready to find a match. He doesn't seem to mind Leo becoming fully aware of what she lost.
I want to mention, without giving anything away, that this book has the first mention I've seen in a YA novel of an asexual character. It's a nice answer to a marriage of convenience.
The plot itself is somewhat convoluted. I didn't really believe some of the interactions and motivations.
However, that said, I did thoroughly enjoy reading this book. It may not be my new favorite, but it was a whole lot of fun, and I hope Alexa Donne has more retellings in store for readers in the future, with more insight into this future society in the stars where the glittering wealthy try to forget about those who are struggling for space and food and teens figure out their response to that.