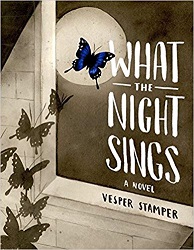 What the Night Sings
Review posted March 20, 2019.
Alfred A. Knopf, 2018. 266 pages.
Starred Review
Review written May 27, 2018, from a book sent by the publisher.
2019 Morris Award Finalist
2018 Sonderbooks Stand-out
:
#2 General Teen Fiction
Wow. This is a Holocaust novel. They tend to be powerful. But not all of them have me closing the book saying, "Wow" – stunned by hope.
To be fair, the book begins as World War II is finishing. Gerta Rausch is in Bergen-Belsen as the British are liberating the camp, holding her bunkmate, sick with typhus, in her arms:
The soldiers begin removing the dead. There are so many. How could I not have noticed them lying right next to me?
And suddenly – Rivkah, too, is gone.
I feel her final breath wisp across my lips. They pull her from me, but I can't let her go. She is my last connection to the living world. I clutch her arm, her hand, her fingers. I sing the lullaby after her, my foster mother. I know no one else in all of Bergen-Belsen, either from Auschwitz or Theresienstadt. Everyone has come and gone, piles of shells pulled in and out of waves, and I'm still here, a skeleton of a sea creature, dropped in this tide pool, living, watching, still living.
This book is about living – and trying to figure out how to make a life – after the war. Gerta is sixteen years old and in a displaced persons camp on the site of the old concentration camp. Her only family – her Papa – died during the war in the furnaces.
Gerta had trained to be an opera singer like her stepmother, her stepmother who watched while she and her papa were taken to the cattle cars. Gerta did manage to bring her papa's viola with her – and got assignments to play in the camp orchestras. They played while people were sorted, for life or for death.
Part of the power of this book is that it includes illustrations. The book size is larger format than most novels, and many of the illustrations take up entire double-page spreads, though some are next to the text. The picture that hit me the hardest was a picture of a smokestack on the side with smoke going all the way across the top of the two pages. Those pages conclude with these words:
"Come with me," the woman says softly, pragmatically. "You've been sent to the orchestra, yes? Well. Join your very lucky sisters. Music has saved your life today."
"Where's my papa?" I plead with her. "I want my papa!"
She signs and points ahead. "See that chimney?" she says, still softly, but so that I will clearly understand. "See that smoke? There's your papa."
But I said that it's a book that left me with hope. Though the book does explain the dark setting, Gerta must make the hard choice to keep living. And to love. And it's not easy.
I especially appreciated the Author's Note at the back, because it put a bow on why the book felt so applicable to my life – I, who had never experienced anything remotely like the Holocaust. She explained that in high school she developed a deep identity as a musician.
There's a problem with that, however. When you decide early on who you "truly are," it can trick you into thinking that you were destined to live by a certain script. And when you're out on your own and you realize that there is no script, you might panic.
Several years ago, I was rear-ended by a texting driver, which resulted in my arm being partially paralyzed. I completely lost the ability to play guitar – I had been a touring musician – and it took me a full year of rehab before I could reliably draw again. I had to relearn everything, even how to lift a fork to my mouth. This wasn't in the script. A huge element of my deeply ingrained identity had been smashed. Like Gerta, I had hinged my future on a set of expectations, which depended on life's machine running with no glitches. Being disabled cast a pall over every area of my life: my ability to drive, hold a baby, cook, hug or shake hands, let alone create art and music. How could I live my life? Without my script, who was I?
Perhaps that puts all the more power into Gerta's story – and the art Vesper Stamper created to go with that story.
A stunning book about starting over when everything and everyone is gone. About finding joy again, about choosing life and choosing love.