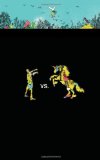 Zombies vs. Unicorns
Review posted February 22, 2011.
Margaret K. McElderry Books, New York, 2010. 415 pages.
Starred Review
When I met Diana Peterfreund, author of Rampant and Ascendant, at the 2009 Kidlit Bloggers' Conference, she told me about this upcoming anthology, and I've been waiting for it eagerly ever since. The premise is too fun! I will use the beginning of the Introduction to present it:
Since the dawn of time one question has dominated all others:
Zombies or Unicorns?
Well, okay, maybe not since the dawn of time, but definitely since February 2007. That was the day Holly Black and Justine Larbalestier began the heated exchange about the creatures' relative merits on Justine's blog. Since then the question has become an unstoppable Internet meme, crowding comment threads and even making it to YouTube.
Here in the real world Holly and Justine are often called upon to defend, respectively, unicorns and zombies. The whole thing has gotten so out of hand that the only remedy is . . .
Zombies vs. Unicorns. The anthology.
Yes, Holly Black and Justine Larbalestier, defenders of the reputations of unicorns and zombies, respectively, have compiled an anthology of stories by stellar authors about unicorns and about zombies. Team Unicorn is represented by Garth Nix, Naomi Novik, Margo Lanagan, Diana Peterfreund, Meg Cabot, and Kathleen Duey. Team Zombie presents stories by Alaya Dawn Johnson, Carrie Ryan, Maureen Johnson, Scott Westerfeld, Cassandra Clare, and Libba Bray.
Now, to be right upfront with you, I am firmly and decidedly on Team Unicorn. My first unpublished and probably never-to-be published children's novel is about a winged unicorn. I like them. And I don't like zombies. If this anthology had only included the zombie stories, I would not have been even slightly tempted to pick it up.
However, as it was, I'm am forced to admit that some of the zombie stories were quite good. The one by Maureen Johnson I loved. It reminded me of my favorite vampire story ever with an oppressed wife caring for the adopted vampire children of her abusive husband. In Maureen Johnson's story an unwitting teenager comes to an isolated house to babysit some toddlers who turn out to be zombies. It probably shouldn't be read by a teen about to go on her first babysitting job, but I enjoyed it.
The unicorn stories, of course, were brilliant! My favorite was "The Care and Feeding of Your Baby Killer Unicorn," by Diana Peterfreund, which tied in beautifully with her books. You would not have to have read her books to enjoy the story, and I hope it will win her some new readers. My second favorite was "Princess Prettypants," by Meg Cabot. A girl's crazy aunt gets her a unicorn for her birthday, and at first she's horrified at such a baby present, but in the end she finds it quite useful.
I do highly recommend this anthology. Whichever fantastical creature you prefer, you'll find brilliant stories that look at them in a new and interesting way. The banter between the editors before each story is amusing as well.
Go Team Unicorn!